It was quite possibly the most interesting and heart-warming parade this town has seen in some time. An 8 year-old girl was sitting at the front of a sailboat as it cruised up the Cayuga Inlet, joined by her family and her schoolteacher, who owns the boat. The girl was smiling and waving like royalty, and the shore was lined with friends, well-wishers, athletes and coaches from the Cornell Equestrian Team. Oh… and another special spectator was there: A horse named "Moose."?
The girl's name is Maeve Rae-Bognar—she is listed as the youngest member of the Cornell Equestrian Team, and the event was put together to celebrate the completion of her final chemo appointment, two plus years after being initially diagnosed with Acute Lymphoblastic Leukemia.?
When looking at various physical therapy treatments during treatments, Maeve conveyed that Equine Therapy was something that really spoke to her. She took some riding lessons, and was soon thereafter connected to Friends of Jaclyn, an organization that matches pediatric cancer patients with sports teams. According to Cornell's website, "The Big Red quickly adopted Maeve, who would visit the barn every weekend to see them, and especially Moose. She attended holiday events, an ice cream social and even visited one of her older teammates, Lena Reeb, in Connecticut to ride one of her horses."??
Maeve immediately bonded with her new two- and four-legged friends, but her connection with Moose seemed to really resonate with the youngster. According to Marisa Rae—Maeve's mom—"The team gave us a stuffed brown horse that looks like him and he's been to every inpatient visit since then and sleeps with Maeve every night," Marisa said. "They have a very special love for each other."?
I couldn't get a quote from Moose, but Joanna Nokaovic (Cornell's Head Equestrian Coach for the past seven years) told me, "We really wanted to do something to celebrate, but obviously we couldn't have a gathering, so we planned this. We loved the idea of having Moose there, but when we asked about bringing him to Stewart Park, we were told that horses were not allowed there. We asked the Boatyard Grill, and they said, 'Sure!' I was amazed, and very grateful."?
It is common knowledge that many horses are not adaptable when faced with unfamiliar circumstances or conditions, but Moose stepped up. "He was great," Joanna said. "He walked off the trailer, checked out the ducks and the boats, tolerated the air horns and confetti cannon and was there for his friend. It was very touching for everyone."??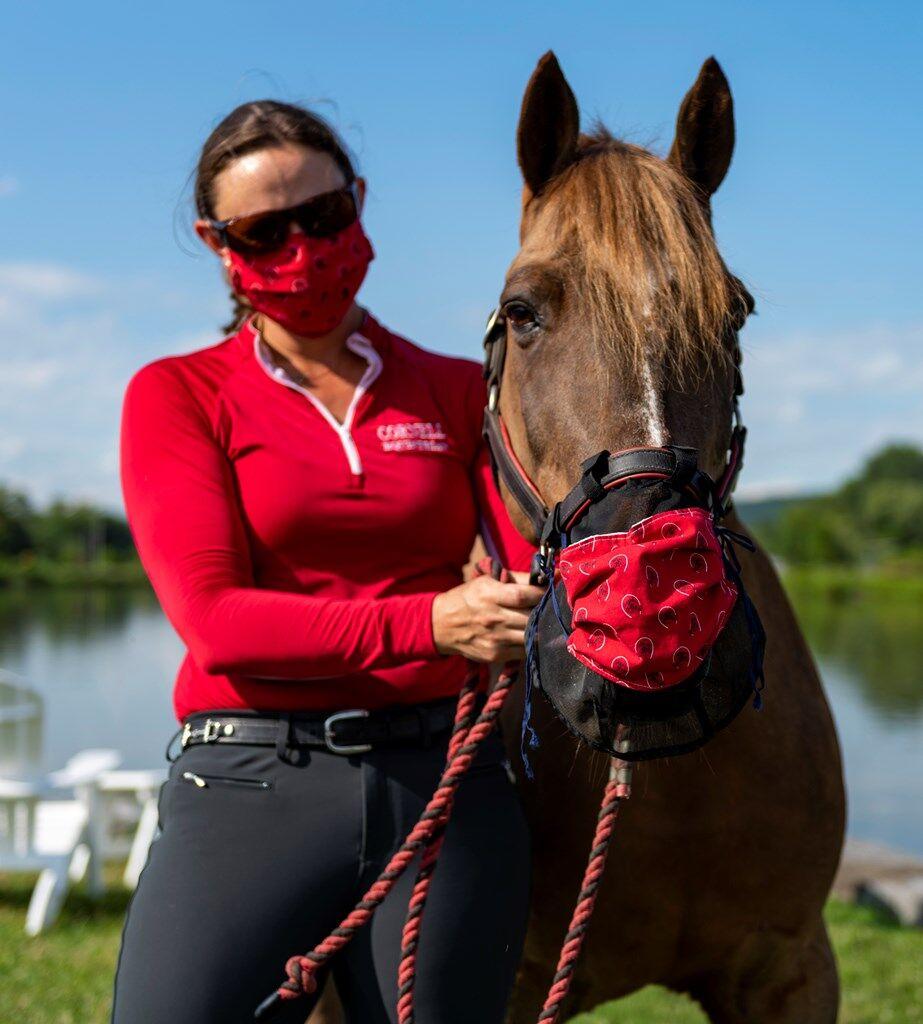 Coach Novakovic is very pleased to be a part of this event that means so much to Maeve and her family, but she sees it as a very mutually beneficial relationship. "I remember when we first met Maeve and we had our team joining ceremony for her," she offered, "and when her mom and dad and a representative from Friends of Jaclyn spoke, the team members wore a look of collective shock. College students can live in their own little world, facing their own college problems, and meeting Maeve and hearing her story made them all realize how lucky they are.? Lucky to be at Cornell, lucky to be with their horses, lucky to have their health... It brings a lot of perspective."??
While many of the team members are not in town now, Joanna said, "We invited everyone we possibly could. We had some girls who live here, some coaches, some volunteers, some friends… We're still here."?
She clarified, adding, "Equestrian is not like other sports, where you can just put your equipment away. The horses need to be cared for, and the team members do chores all year. They get to the barn before class, they're mucking out stalls, there is a lot of commitment, a lot of buy-in."?
Looking back on the event to celebrate the completion of Maeve's treatments, Coach Novakovic sounded very convincing when she said, "It's the one good thing to happen in 2020."?
For more information on the Friends of Jaclyn, visit https://friendsofjaclyn.org/.