When faced with a loss of control over their life, a loss of their sense of purpose, a bout with depression, call it what you will, many people curl up on a couch and lose much of their motivation. Others say, "I think I'll hike the Appalachian Trail."
Bob Emery was an athlete and outdoorsman since childhood. He quarterbacked the Newfield High football team 40 years ago, he wrestled in high school and at TC3, and he put in a solid 25 years in the Ithaca City Softball League.
Bob followed a few career paths – youth work, auto sales, union carpenter – and when he nearly cut off his hand while working on the Tappan Zee Bridge two years ago, he went on partial disability and was forced to reevaluate how to move forward. Then, in 2018, he contracted Lyme Disease, further compromising his ability to live life as he once knew it. He and his mom bought a house in Newfield, and while he valued the opportunity to spend time with her, she was caring for four young children and things were a bit chaotic. Something had to change.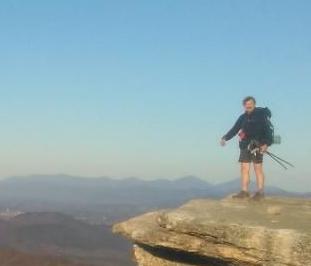 "I remember learning about the Appalachian Trail in 10th grade Social Studies," Bob told me, "and I had done some serious hiking in the Adirondacks, the Rockies, Barr Island… in fact, I did a two-week hike from the Berkshires to the New Jersey border in 2002." He added, "I decided to hop a bus to Springer Mountain in Georgia, and I resolved to hike the entire 2,170 miles."
After Day #1 – 10 miles uphill – Bob knew this: "There is a big difference between being an outdoorsman and sportsman and hunter and hiking for weeks at a time. It rained off and on for 40 days, it snowed at night. On the mental side, I had no idea what I was getting into."
Early in his journey, Bob met a young adventurer who was born in Kazakhstan and moved to NYC when he was 10. I asked Nikolay Buzhin why he packed up and headed to the AT, and he said, "I wanted to escape the city and be on my own."
This odd couple – a 58 year-old and a 21 year-old – hiked together for long stretches, went their separate ways and met up again numerous times. Overall, they put in about 500 miles over the course of 6 weeks, and Bob said, "I started on Super Bowl Sunday – February 3 – and there were nights when the temps went down near zero. You wake up on a wooden floor in a three-sided shelter, your feet are swollen and your legs ache and you know you'll just do it again… I cracked a bone in my leg carrying my 40-pound pack down a mountain in Virginia… you sweat profusely and can't drink enough water… I had hot embers burn a hole in my tent and my clothes and sleeping bag… It was miserably fantastic."
Two months into his odyssey, Emery got a call from his mother conveying that there had been a death in the family. "My mom needed me, and she doesn't ask for much," Bob offered. He left the trail.
Looking back, Emery says, "I had some good things going on before I decided to leave, family connections and such, but in some ways it felt like my life had bottomed out. I hadn't worked in two years. I was definitely in a depression, but as I continued on things started to come into focus. The wall of despair was lifting."
Of the AT community, Bob says, "The Trail has a life of its own – the economy, the brotherhood of the people on and around it is something I never knew existed." He says he met some "thru-hikers" (people who do the trail end-to-end) including a 65 year-old guy from New Hampshire who was completing his fifth end-to-end, and Bob describes those people as "a breed apart."
As for Nikolay, he joined us at Bob's kitchen table for our interview. "I didn't know what I was going to do after the Trail," he said, "so I came here and got a job at Cornell." Bob implied that teaching Nik how to drive was as challenging as hiking 500 miles, but so far the car and the friendship remain intact.
Part of the reason it took Nik several months to join his friend had to do with the fact that he had a bit of unfinished business to which to attend. That's right, after five months, seven pairs of hiking shoes and 2,170 miles, Nik can call himself a thru-hiker. A breed apart.