Like it did for many people, March of 2020 threw the proverbial monkey wrench into Michaela Brew's plans. The 2018 Cornell grad (and Ithaca native) was living in Manhattan, working for Capital One, planning to run a marathon and hoping to carve out some time to spend with her parents, Kevin and Vicki Brew (Cornell class of '77 and '89 respectively).?
Little did Michaela know that by the time she got ready to return to the Big Apple this month, she and her mom would have carved out enough time to achieve an impressive goal, and they have the leg muscles and saddle sores to prove it.?
Vicki Brew has been a dedicated cyclist for many years, and I remember being on a group ride with her in 1986. We rode in a fundraiser and cranked out 166 miles over 3 days, but she embraced long-distance cycling a lot more than I did. She has completed the famous and daunting 100-mile Ride for Life three times and she told me, "I have been riding pretty much my whole adult life." She was quick to add, "Weather permitting…"?
As for Michaela, she shared, "I wasn't really a big bike enthusiast – that was my mom's thing – but I had been taking Spin classes in the city and I was supposed to do the NYC Marathon, but that was canceled and I really didn't have anything to train for."?
The plan for the two Brews to do some riding together took shape, and Michaela caught a serendipitous break when she went into Cayuga Ski and Cyclery.?
"I bought the last road bike they had in my size," she said, "and I started riding with my mom. The first long ride we did was around Keuka Lake, and that was the longest ride I had ever done. At that point, we hadn't talked about doing all of them."?
That ride was completed on June 19, and the odometer showed that it was 45.3 miles. Then, on June 28, the pair rode around Skaneateles Lake (40.6 miles), and Michaela learned a lesson on that day.?
"I [had] decided to plan our route myself," she said, "and we ended up on some steep gravel roads. We got lost, had to walk a lot, and that was my least favorite ride."?
On July 3, they rode around Owasco Lake (31.5 miles), and 2 days later they saddled up and did Otisco Lake, which was 20.7 miles. On August 1, the mother/daughter team doubled up, looping Conesus Lake (18.4 miles) and Hemlock lake (22.5 miles). "That shouldn't be a Finger Lake," Vicki huffed. "You can't see any of the lake on the whole ride. There are killer hills and we had to walk."?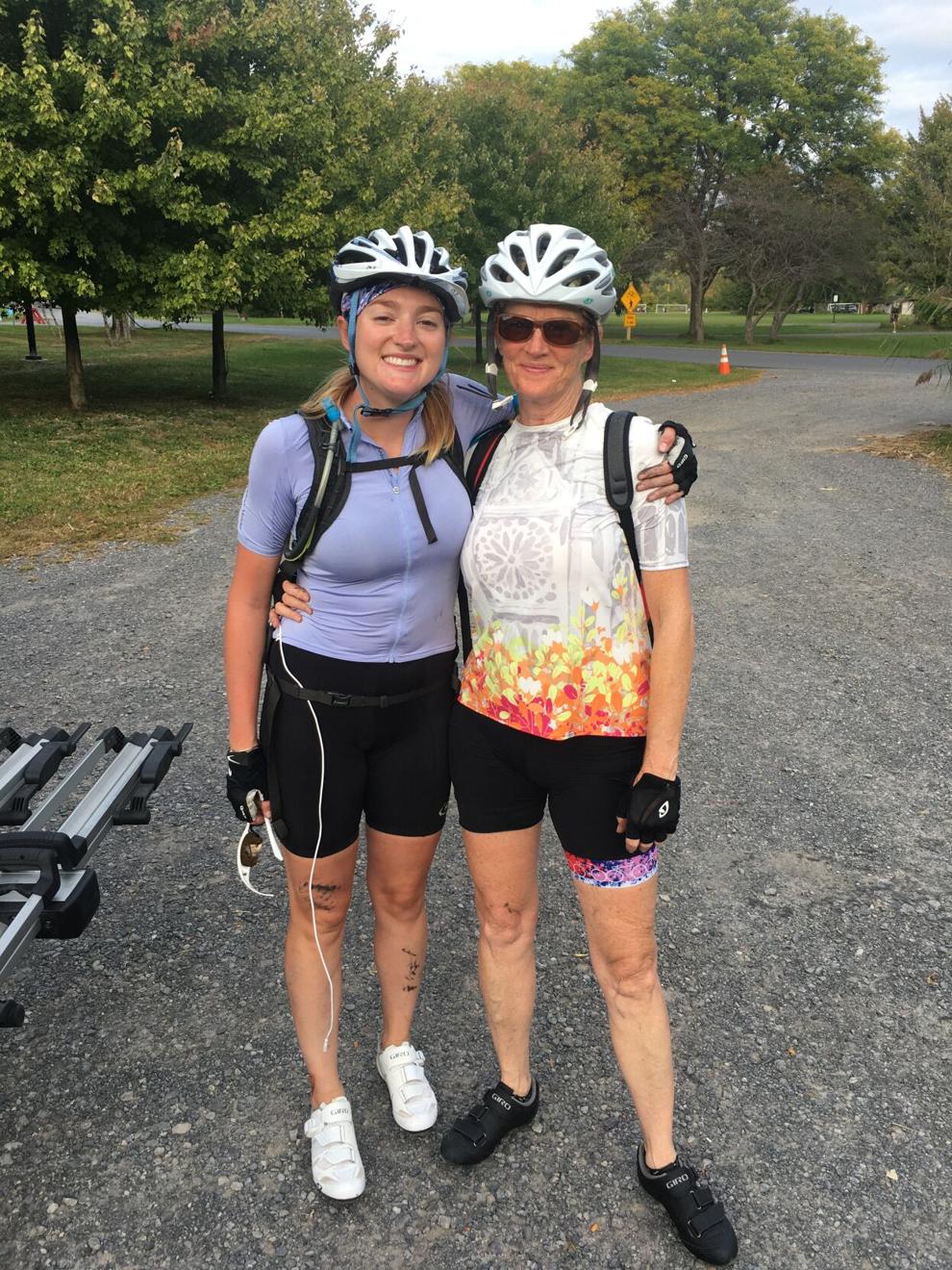 August 8 was another double-up day, as the riders started out by circling Canadice Lake (11.9 miles) and then followed up with a ride around Honeoye Lake (18.1 miles). Vicki called that "a nice kayaking lake, with a large beautiful preserve at one end of the lake."?
A week later on August 15, our intrepid riders looped Canandaigua Lake (42.2 miles), which Vicki calls "a beautiful lake with a boat party area in town." She added, "We had a huge downpour at the end and we went home soggy."?
Another week passed, and on August 22, Vicki and Michaela tackled Seneca Lake (79.5 miles). In Vicki's words, "That ride was the most fun of all. Lots of wineries, distilleries, craft beers… It was a hot day, and there are majestic views from everywhere!"?
September 26 was the day chosen for the Big One, Cayuga Lake (104 miles), and Vicki said, "It was a beautiful fall day with my girl, [then] she got a flat tire on the west side." Other troubles presented themselves, as "Michaela scraped her ankle on a guard rail, I got a butt full of nettles and there was a huge headwind all the way home on [the] west side." That was a wrap: Eleven lakes, 435 miles.
I asked the two women to reflect on their mutual odyssey, and Vicki said, "Seneca Lake was the best – it was an all-around beautiful day in rural New York, and the day we got lost and walked through the woods was the worst part." She added, "I loved watching Michaela grow. She went from riding in sneakers to using clip-in pedals to changing her own flat tire!"?
In Michaela's words, "It was definitely a bright spot in having to uproot my life, and I'll always cherish this unique and challenging experience I got to have with my mom."?
?