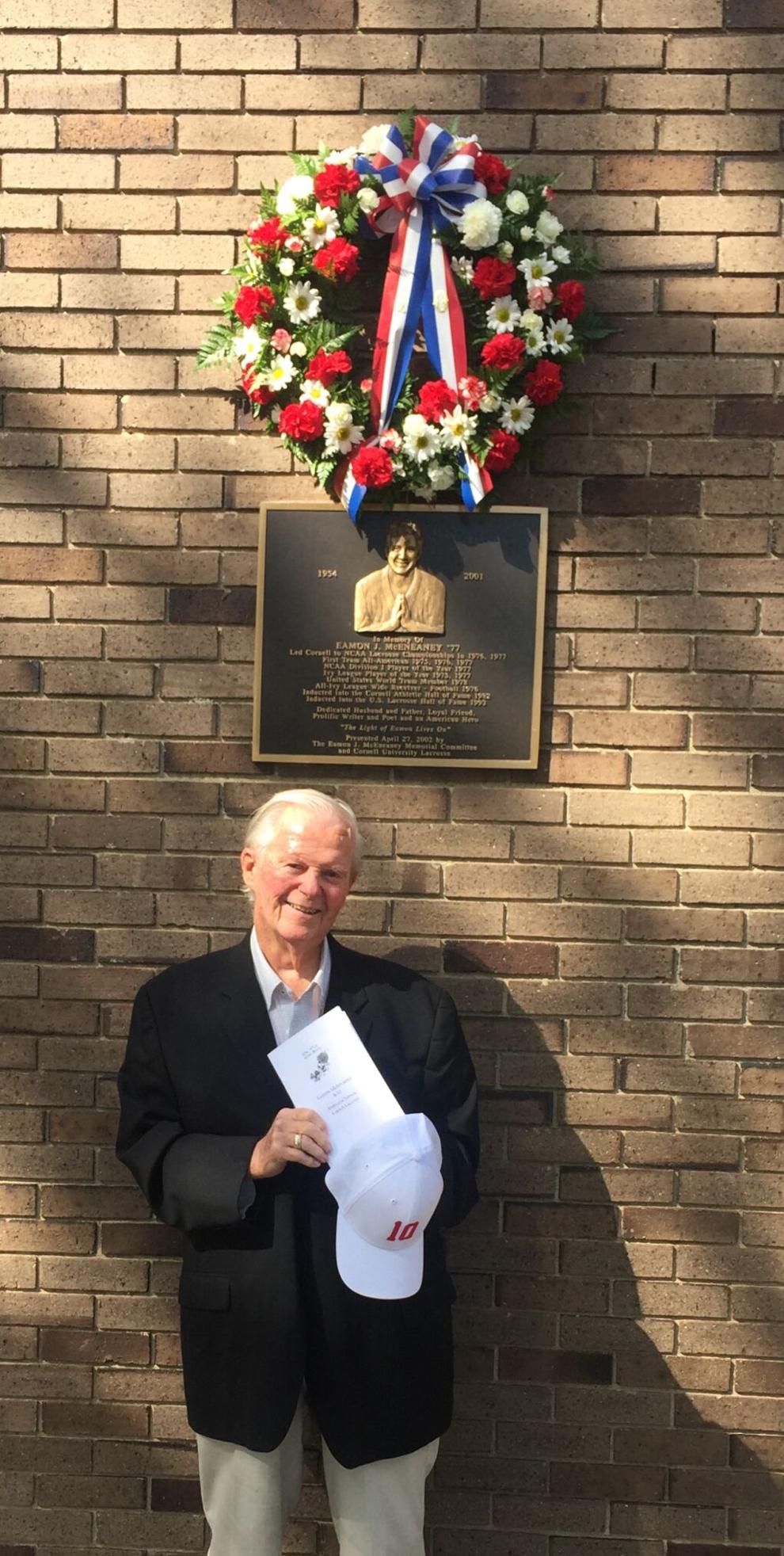 This story won't be published until 5 days from now, but I must write it now, on Friday, September 11th. Having just returned from the Cornell campus, and having been a part of Richie Moran's annual 9/11 remembrance ritual, the words are pushing their way out, so I will move aside and let them emerge…
On this day 19 years ago, Richie Moran – the Hall of Fame lacrosse coach who had retired 4 years earlier – was summoned into his daughter's house as he and his wife, Pat, had pulled into her driveway to pick her up. "Please come inside," Jennifer said. "There is something terrible happening."
Like the rest of the country, Richie watched the events unfold on television, but unlike most people, there were people he knew and loved working inside the twin towers. He knew that Mike Tanner, who had played football at Cornell in the late 1970s, was employed there, as was Eamon McEneany, whom Richie had known since Eamon was 9 years old. While he dreaded the thought, Richie knew it was very likely that his two friends were in the building when the first plane hit the North Tower (as were nine other former lacrosse players Moran had recruited and played against). Despite many prayers that Mike and Eamon – who were employed by Cantor Fitzgerald – had somehow made it out, it was not to be.?
In the ensuing weeks, the coach pushed aside his own grief and did his best to be there for Bonnie McEneaney and her four children. He gave a eulogy for Eamon that was televised on ESPN, and he held it together to the extent he could. Eamon was like a son to him, and the two had been to the top of the lacrosse mountain together. McEneaney was a three-time First Team All-American, the 1977 National Player of the Year, and one of the mainstays of the Big Red's two consecutive national championships and its historic 42-game winning streak. He is widely regarded as one of the game's greatest-ever players. Fellow Big Red alumnus and longtime fan Jay Spiegel called him "A superb athlete, a great writer, husband and father, a hero, friend to many, admired by all who knew him or those who were his fans. He is missed by all of us."
McEneaney is also known as a great role model for all blue-collar kids who want to believe that they can do what it takes to become a Cornellian and excel as a student, as an athlete and in anything they choose to do.?? ? ? ?
On Friday, Richie walked over to the wall of plaques honoring Eamon (and fellow lacrosse players Jay Gallagher and George Boiardi), carrying a wreath to be hung over Eamon's memorial plaque for the 19th consecutive year. This year would be different for a number of reasons, the coach said, one of them being that there would not, due to the social distancing rules in place, be the usual gathering of players and coaches. It would also be different because, in Richie's words, "Given it has been 19 years, no one in this year's incoming freshman class had yet been born when Eamon died."
The lack of a crowd did nothing to dim Richie's commitment to honoring those we lost all those years ago. Along with his sense of loss, he feels gratitude for having been a part of their lives, and as a man of faith, he believes he will see them again. He smiled when he said, "The weather has been beautiful every year for 19 years, but I recall that one year it sure didn't start out that way."? His smile broadened, and he added, "On the 17th anniversary, the wind picked up like crazy, and the chairs on the dock at our home went tumbling. Two of them went into the lake, and given I was already dressed for the event, I talked Pat into retrieving them. We laughed and said that it was Eamon and Jay that made the two chairs go into the lake!"?? ? ? ??
It is important to Coach Moran that Cornell's lacrosse family remembers Eamon, no matter how many years have passed. "He was the fiercest competitor I have ever known," he said, "and he excelled at whatever he did because of his work ethic."? Regarding Eamon's writing, Richie offered, "We would go on long bus trips, and he would write poetry on napkins, on notepads, whatever he could find. After he died, his book of poems ("Bend in the Road") was published, and one of the people who said how much they loved it was Hank Aaron. That's pretty special."
Richie is 83 now, so he made a small concession. He let me climb the ladder to hang the wreath. He could have done it, but being the consummate team player, he let me have some of the glory. That's how he rolls.?
?