In August of 2017, I attended a meeting of Ithaca Democrats and met a woman who said not only that she would challenge Tom Reed but that it would take two attempts to win. I thought it was a terrible thing to say to a room full of people who were ready to vote out the incumbent, and I told her so!
Three years later, and I'm about to hit the road for the same candidate. Literally. Inspired by Tracy Mitrano's two straight campaigns, which have criss-crossed a district the size of New Jersey, I've decided to run myself: 40 miles over two days to raise money for her campaign.?
Today, as I write this letter, I've just completed my first 20 miles, but I feel energized and ready for the second half of my challenge tomorrow. While running today, I reflected back on our first meeting. I can see why she is right. If we can keep the pressure on, it will take two times for her to win. It's taken time for Tracy to establish her name in an enormous Congressional district with a 10-year incumbent. She's traveled the district tirelessly, meeting with countless people: teachers, small business owners, police officers, seniors, farmers, union members, Rotary Clubs, nurses, and more. She's built a massive volunteer network across all 11 counties.?
When I heard that the race was tightening and that calls to unaffiliated voters in our district had been going even better than expected, that's when I wanted to do something special to help. As with so many things, Covid has changed campaigning. In 2020 it's harder to reach voters by knocking on doors, so TV and mail outreach has become more important. I thought an unusual fundraiser might be just the thing to get people's attention and steer some resources towards her voter outreach.?
Tracy cares about everyone in our district, regardless of their political affiliation, and it shows. She will fight for universal healthcare and to ensure coverage for people with pre-existing conditions, to rebuild our economy, protect social security and medicare, and build infrastructure across our district. She will be a representative who will work for everyone. Tracy's running for us, and that's why I'm running for Tracy.?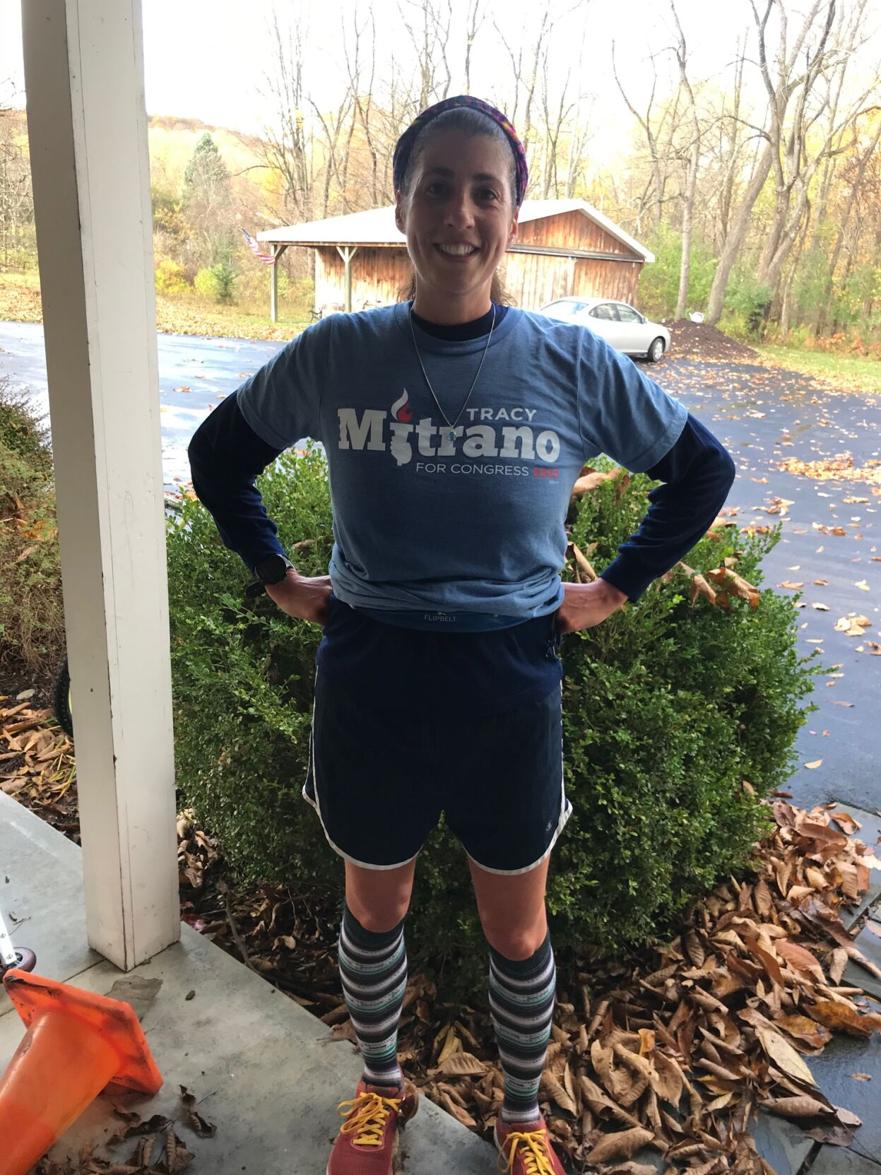 There are two ways to help Tracy:?
If you are in a position to support my run for Tracy, please visit mitrano2020.com/run.

Please make a plan to get out and vote for Tracy and the amazing candidates up and down the ballot. Early Voting started this Saturday, and you can find hours, details and locations at www.Mitrano2020.com/earlyvoting. You can also call the Board of Elections at (607) 274-5522 with any questions. They even have an outdoor drop box that's open during business hours for absentee ballots! And, of course, you can still vote at your regular polling place in-person on Election Day (Tuesday, Nov. 3).
-Liz, Hartman, Ithaca, N.Y.
?