Lucia Jander grew up in Slovakia, a part of Czechoslovakia before the country separated in 1993.? After high school she attended medical school in Prague. Upon graduation Lucia left post-Communist Eastern Europe for a one-month fellowship at Harvard, arriving in Cambridge, Massachusetts in September 1993. After the short fellowship, Lucia began a two-year project in a hematology laboratory identifying receptors for a thrombopoietin gene in different cell lines.? Lucia modestly comments: "It was a steep learning curve."
During Lucia's research project she also met her future husband Georg Jander, who had arrived from Germany as a kid, and was studying the genetic and biochemical interactions of plants with insects at Massachusetts General Hospital. Fortunately, in addition to her native language, Lucia also spoke Russian, English and German.
?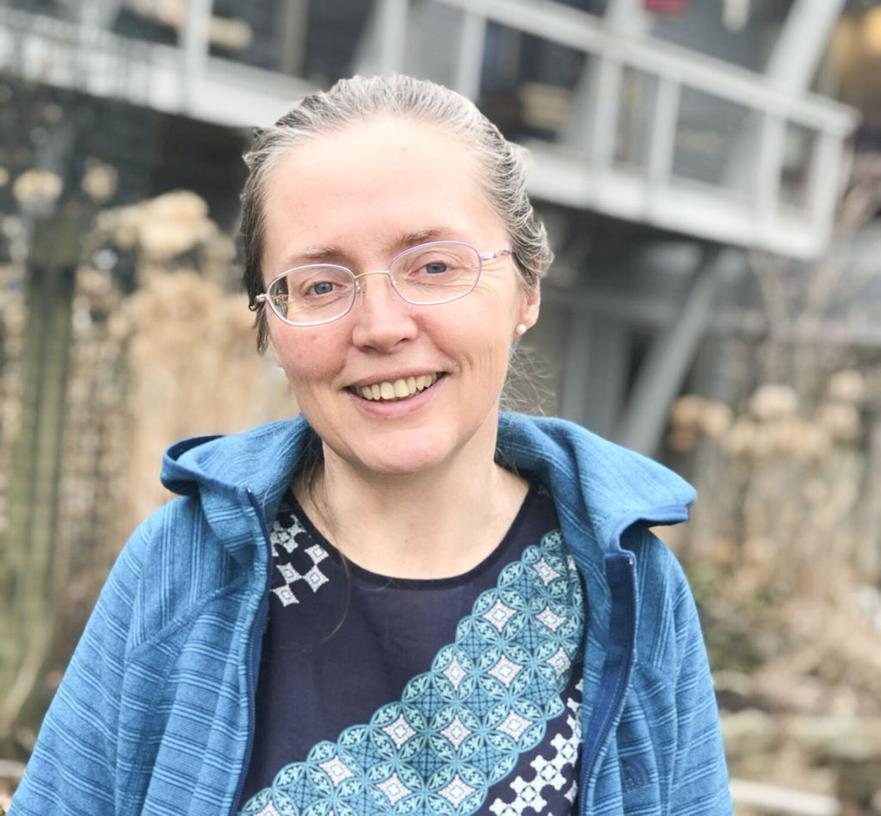 Desiring more clinical experience, Lucia next began her 4-year medical residency at Boston University, which hosted a wide array of international medical students and physicians. "During my residency I served patients in the VA, Boston City, and University Hospitals. This provided me with a very wide range of patient needs from all walks of life, young and old, rich and poor."
Following her residency Lucia worked with patients in a Medicaid-funded health maintenance organization (HMO), which provided disabled people with community-based services. "I was able to work with a smaller caseload of high-intensity patients with severe disability".??
Lucia also modestly credits her supervisor who introduced her to expert management techniques to enhance the lives of disabled persons. Some of the patients had terminal diagnoses and caring for and minimizing the pain of death became a central theme in Lucia's ability to care for all her patients through all stages of their lives.
?
In 2002 Lucia and Georg arrived in Ithaca in time for the birth of their third child. Lucia found medical positions that provided some flexibility, while raising four children, all under six years of age. Serving at Beech Tree (then known as the Reconstruction Home) and Oak Hill Manor, Lucia also got to know a wide range of medical colleagues.
?
In 2004 Lucia joined the much respected and much-loved internists Ann and John Costello (whose practice so many of us have applied to join as patients and been turned down due to limited patient size). Lucia has provided patients, ages 18 and older with primary care as part of this terrific team. Although this practice is independent from Cayuga Medical Center, Lucia highlighted the many ways Cayuga Medical admirably serves the entire medical community-- with its credentialing of practices and its unique community involvement, citing Cayuga Med's valiant volunteer medical service in NYC, and its vision, coupled with long arduous hours, to offer wide-scale Covid 19 testing for the entire community, at great cost to CMC.
During Lucia's years treating the terminally ill, she continually noted how much our local nursing homes manage to provide with so little resources. "So many staff members, paid little, provide difficult care, day after day, and through the nights in the trenches, with such compassion and goodwill. And administrators who creatively stretch their inadequate funding stream to care for the most vulnerable population."?
Working with the Costellos and great nurse-practitioners Lucia utilized flexible scheduling to juggle work and home. And these days with two college-aged sons in engineering programs, a daughter soon to begin an engineering program at MIT, and a son who is a junior in high school, she has somehow managed to include an invaluable community resource to her already-stretched schedule:
As our country's population ages out, Lucia began providing end-of-life care to more patients. Seeking best practices, she obtained certification as a Hospice physician, working part-time as an associate medical director in this region's renown Hospicare program since 2010. When medical director Suzanne Anderson (Lucia's unsung hero) retired, Lucia became director.
Every one of us will someday reach our final stage of life. Patients and their families find themselves in uncharted waters whenever we reach that point. Dr. Jander: "Hospicare is there for you when you need us. Please do not hesitate to contact us, we are here to help in any way we can."
Dr. Lucia Jander and the outstanding staff at Hospicare are a community treasure: "Since 1983 Hospicare & Palliative Care Services has been providing care for people of any age, with any terminal diagnosis in Tompkins, and now Cortland Counties.? "Our goal is to help people live their final months as fully and peacefully as possible. High quality healthcare is important at every stage of life and we consider it a privilege to walk alongside those who are facing terminal illness, coping with grief, or seeking to learn more about these profound experiences…Our palliative care service specializes in relief of pain, symptoms, and stress at any point in an illness. Additionally, our bereavement support services provide grief counseling and support groups to those who are grieving a loss."?https://www.hospicare.org/
For more information contact HOSPICARE 607-272-0212 info@hospicare.org
?