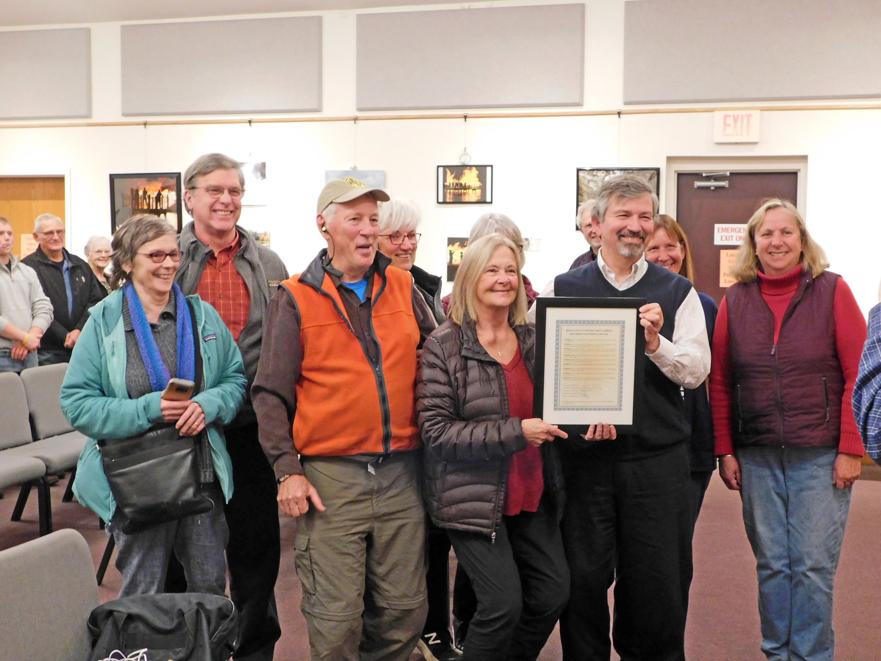 Two Lansing residents were honored by the town last month for their volunteer efforts in the community. Marcia Herrick and Doris Straw were both named Volunteers of the Year by the Town Council at a meeting on Nov. 20.
Herrick was honored for her volunteer work on the Lansing Center Trail for more than a decade. She first began volunteering by joining the subcommittee tasked with the project about 11 years ago. Three years later, she became responsible for maintaining the trail, once it opened, by mowing the fields.
While she was pleased to receive the award, Herrick said more people than just herself deserve recognition for the work that has been done on the trail.
"I feel humbled to get this award," Herrick said. "But even though my name is on it, it takes a lot of people…to keep it going. We have a very small, little group that tries to maintain it. Even though we're small, we're pretty mighty."
"There are so many others that helped so much with this trail," she added. "I want to give a shout-out to Patrick Tyrrell and his crew because I can't even begin to tell you…how many times Pat has come and rescued me because I'd be stuck in the mud out there. He needs a big shout out from the [Parks and Recreation] Department."?
Aside from her volunteer work with the trail, Herrick volunteers with the Lansing Food Pantry, Habitat for Humanity and the Hangar Theatre.
"That would be my main volunteer efforts, but usually I will pitch in if somebody is needing help doing something," she said. "I just really enjoy that type of stuff."
A hiker in her spare time, Herrick said this was the perfect project to get involved in; however, she said, she mainly started volunteering with the trail project simply because she loves the act of volunteering.
"I've always felt very strongly about giving back to whoever and whatever," she said. "That's just part of my being."
"It's very satisfying to see people benefit from volunteer efforts, whether it be people in need of food, housing or even people that enjoy the fact that they can get out with their dogs and enjoy that trail…I [feel] very rewarded by seeing that happen to others."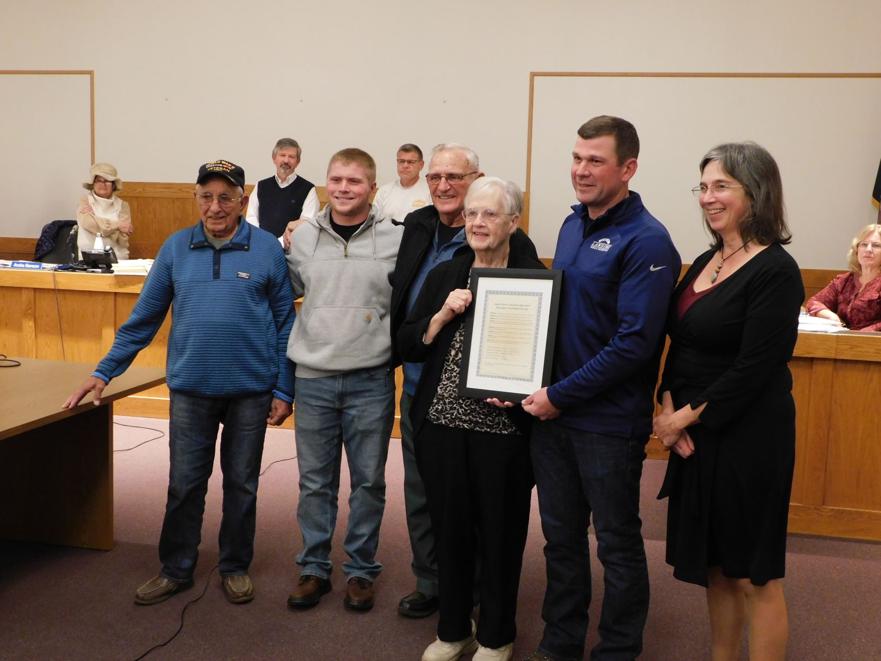 Straw was honored for her volunteer work beautifying Myers Park. She first began her work when she attended a funeral for resident Roy Cochran about four years ago and noticed all the dead flower beds around the park. Her husband, Wayne, was responsible for maintaining the park at the time, so she asked him to drive over their and fix the beds. Straw said she thought there would be nothing else more to it than that, but her husband had an idea.
"He got the bright idea, without saying anything to me, that he told his boss, Pat [Tyrrell], that he would go and get the flowers, Doris would plant them," Straw said. "It got started and it mushroomed for four years."
Since then, she has been volunteering her time to plant, maintain and clean out the flower beds at the park every fall.
"Even though it was a lot of work and I have a lot of back problems, it was rewarding to get it cleaned up and have it look nice," she said.
She said this year will be her final year tending the flower beds, as she needs to stop due to the back problems she endures.
"I will miss it in some ways," she said. "But I just don't feel I can keep up with everything."
She said she was honored to be recognized for her work.
"I think some of the people on the board did not even know that I did it," she said. "It just got done. No one ever had to tell me to do it. I just did it. I think it was nice that they recognized me and thanked me for it."