ITHACA, NY -- So far this February, Ithaca has been pummeled by snow and frozen to the core as temperatures have routinely been well below freezing. But that hasn't stopped Hospicare co-workers Sara Worden and Laura Ward from swimming in Cayuga Lake. Yes, swimming.
"The rest of our co-workers think we're crazy," Worden laughed.
Ward compared it to Hospicare's annualWomen Swimmin' fundraiser event, during which women swim the width of Cayuga Lake.
"It's wonderful to feel a part of something," she said. "The camaraderie, the women factor and just community."
A quick Google search shows you that cold water swimming isn't anything new, as it's been gaining traction through articles written in The New Yorker and the New York Times, and has long been popular in the U.K. and throughout Europe. But unlike swimming laps at the YMCA, cold water swimming isn't so much about focusing on your physical health as it is about working on your mental health.
"It's one of those things I didn't think was possible," Worden said. "I thought if I got in the winter water I would die immediately. But then you do it, and it's not that bad. This belief system you had about something gets totally rewritten — we took a boundary and eradicated it. It becomes really empowering."
Ward agreed, adding that if you can see yourself push past that boundary, it inspires you to start looking at what other boundaries in your life you can break. And as a grief counselor, she said she's particularly inspired by the people she works with on a daily basis.
Ward said that experiencing the death of a loved one is the hardest thing people have to go through in life, and that she's always been "really blown away by the resilience of people who are going through grief." She said the strength she sees in people just getting through the day when they're dealing with something so difficult is what she kept in mind the first time she waded into the water this winter.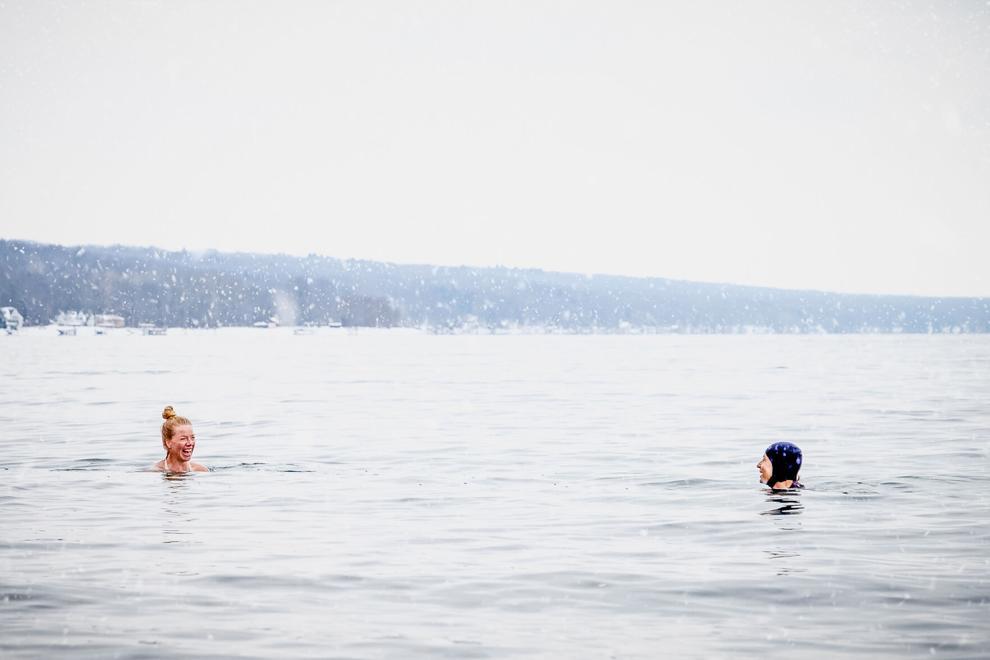 "If they can go through that, I can do this," Ward said. "I do it in solidarity with them. It pushes your physical limitations, and to me it just made sense in the context of grief, like how we can do more than we think we can. I feel like I'm alive, so this is something I can do."
After a swim, Worden said she feels an "energized calm."
"I feel very awake and alert, but also very grounded and clear," she said. "It's been improving my mood overall. On days I swim, I feel like I get a better sleep. It just really improves my overall energy."
Ward agreed, and says the cold water gives her something to focus her thoughts on.
"I'm an overthinker, so clearing my mind is not easy for me," she said. "But when I go into the water, I can't think of anything else."
Worden said the first time they got into the water (which is hovering in the mid 30s these days), they took it slowly. Experts say it should take you about 90 seconds to get into the water, giving your body time to adapt as you go.
"It was really fun because as we were walking into the water, we just kept looking at each other like 'It's not that bad!' Worden said. "And we just kept going and going. Our goal was to get up to our shoulders.."
She added that despite the cold temperatures, it was her mind that got her out of the water, rather than her body, and Ward agreed.
"I definitely think you want to listen to your body," Ward said. "Now that I've done it a handful of times, I don't feel the need to get out […] I just know I shouldn't stay in too long."
Despite the water temperature, Ward and Worden wear regular bathing suits and not wetsuits, though they do accessorize with neoprene hats, booties and gloves when they want to keep their extremities a bit warmer. At this point, they're swimming for between three and six minutes a couple times a week, and said it has given them something to be excited about this winter.
"I was really dreading the winter, so I was needing this reset," Ward said. "I needed something to disrupt this thought process about how terrible winter was going to be, so it's been about embracing the winter."
Worden agreed, and said she can't imagine another winter without cold water swimming.
"It increases our resistance to the uncomfortable," she said.
The women also pointed out that doing this together has given them a sense of community that they've been missing since working at home during the pandemic.
"It was really nice to feel connected with Sara," Ward said. "And you feel less afraid when you're with somebody, even if it is socially distant."
Ward and Worden noted that they are not experts, and that if you have any interest in cold water swimming, you should do some research, talk to your doctor and to bring a buddy with you when you go for safety.
If you want to learn more about cold water swimming, Hospicare has two events coming up about the topic. One is abook discussion on March 4 about the book "Wintering: The Power of Rest and Retreat in Difficult Times" by Katherine May, in which May herself explores cold water swimming. The otheris Swimming with Icebergs: An Evening with Jaimie Monahan on March 18, a discussion with a Cornell alum who has gone ice swimming on all seven continents. Visit https://www.hospicare.org/events/ for more information.
?