Congressman Tom Reed met with supporters and protesters on Thursday afternoon on the Commons in a demonstration unity and courage in light of rising hostility between left- and right-wing protesters, that resulted in shoving, blaming and even more division.
The rally began at 1:30 p.m. and saw around 20 attendees, including members of the newly formed Ithaca Pantheras, despite the rainy weather. Counter-protesters held signs behind the congressman and his supporters, one of which most prominently read "LIES," which the Congressman attempted to cover to no avail. After a brief squabble between two pushing-and-shoving veterans, the rally quickly became another one of the many protests Ithaca's been home to over the last several weeks.
"The purpose of us coming here is to stand in unity for our rights to express…for those who may disagree with us ...and for those who stand with us …[for] our free speech rights," the Congressman said. "As we witnessed here a few weeks ago, we saw on display hatred, acts of intimidation and the attempts to quiet the voices of folks who attended that rally."
Reed went on to mention the attack on his campaign office where a brick was thrown through the office's window during working hours, and a second incident where someone left a dead rat and a brick with his daughter's name on it at his door, only for it to be discovered by his wife. "We will not be intimidated," shouted Reed, who has attributed the incident to extremism.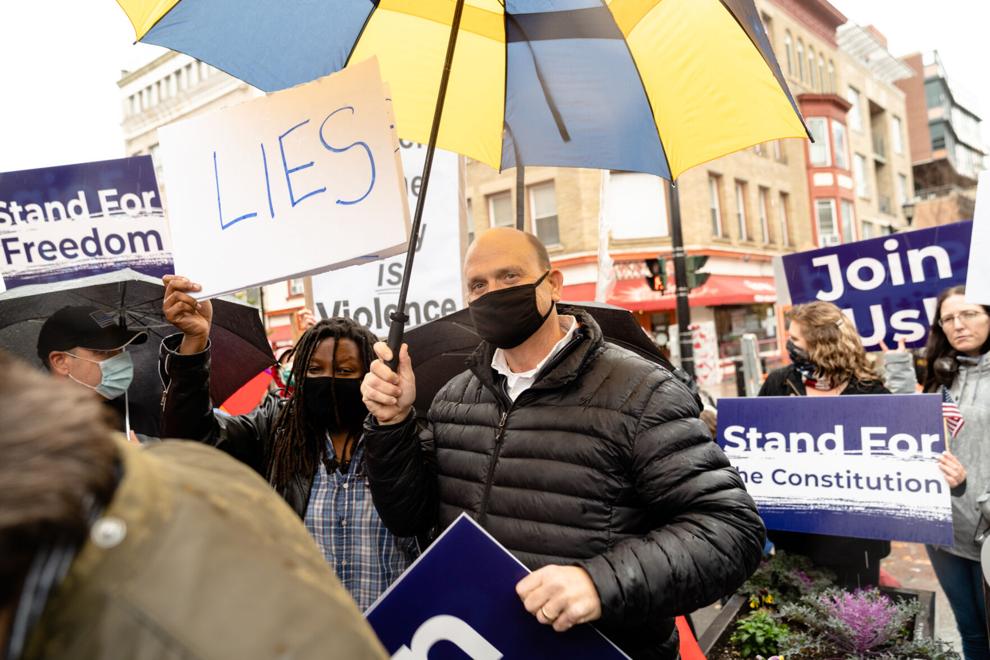 The congressman took time in his speech to address the pushing and shoving. "This is a marine, who served our country honorably," Reed said of one of his supporters to the struggling counter-protester.
"I am too," the protester replied. Reed thanked both for their service and introduced the next speaker, Tricia Turner, Chairwoman of the Ontario County GOP Committee and Finger Lakes Regional GOP Chair.
"This has been a difficult year for all us, Republicans and Democrats," Turner said. "This should be a time of unity for us to come together, but instead we've become more divisive, more angry.
She continued "We should be united on bringing our country together, we should be united on defeating a pandemic that has consumed our small businesses and ravaged our country."
Turner blamed bullying, intimidation and "cancel culture" for rising division in the nation, and blamed "one side" in particular for being unable to tolerate individuals' thoughts and beliefs.
"This coming election is not an election of Republicans versus Democrats. It is an election [between] freedom-loving patriots versus people who want to silence our country and extinguish our freedom."
Unexpectedly, during the rally, two women asked to read a letter to Reed, who obliged. The women opened the letter by sharing that they were conducting a ceremony of grief and lambasted the congressman for his complicity in the hatred, divisiveness and destruction of life perpetuated by the current presidential administration, they said.?
The speaker referenced an Oct. 17 Facebook post made by Reed. Reed's post called on constituents to work towards unity and evoked the memory of deceased Congressperson and Civil Right activist John Lewis. The speaker called Reed a hypocrite for failing to unite the district and stand up against racism and violence during his term.
"Tell us Representative Reed," she said, "how you have stood up against extremism and violence. It is extreme to put children in cages. It is extreme to witness the president engaging in sexual violence against women and do nothing. It is extreme to deprive people of a particular religion of their basic human rights. It is extreme to remove long held environmental protections in favor of corporate profit...It is extreme to be silent when police shoot Black and brown men, women and children with impunity. You clearly support extreme violence, Representative Reed, and it is unacceptable."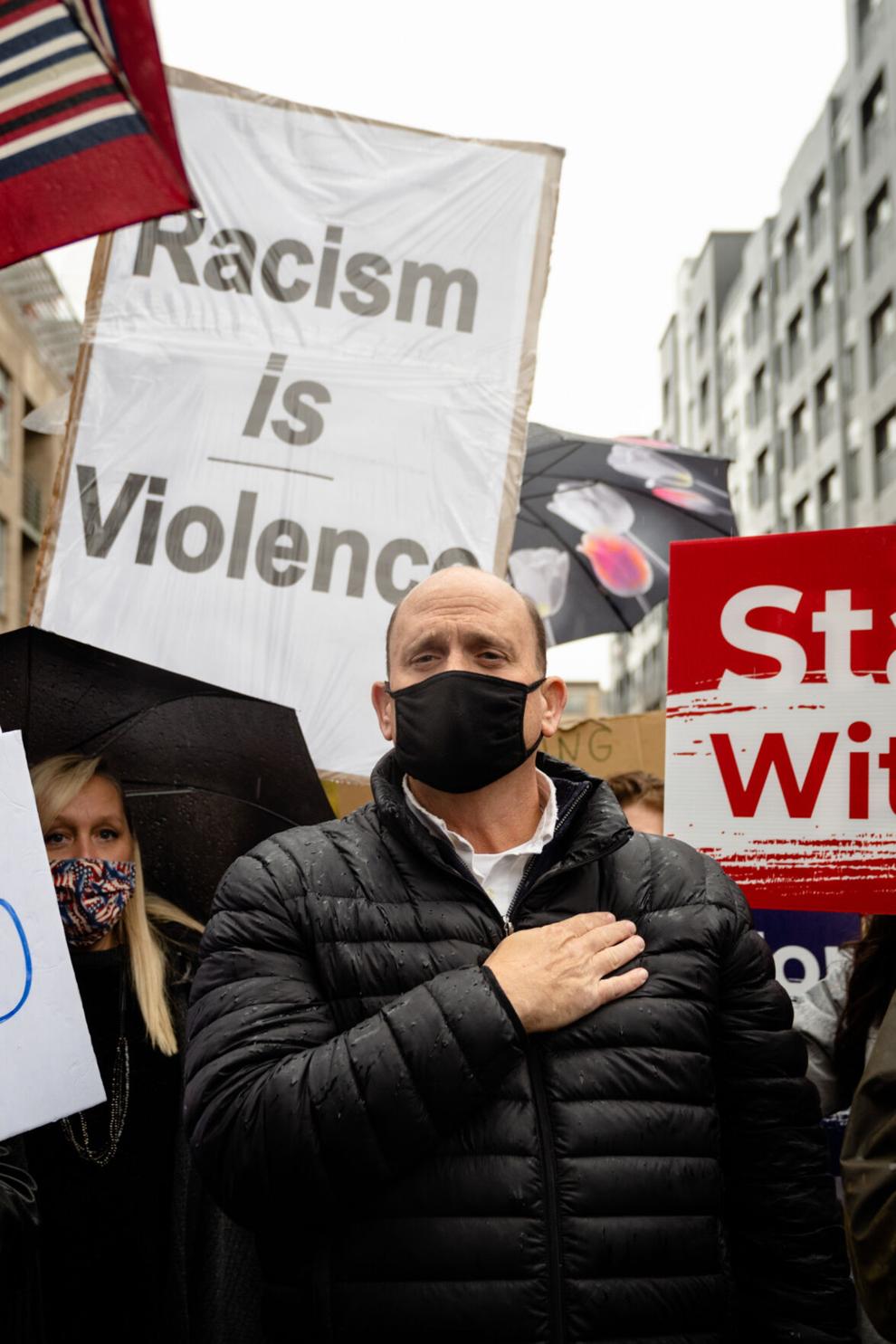 Reed accepted the letter. "I carry [John Lewis'] legacy in my heart," said Reed. "I stand firm against violence. I stand firm against extremism. You may not think that I do but I'm telling you and looking you in the eye right now, I have shown in my record, day in and day out, that I will stand against racism. I have spoken up against extremism of all sorts on both sides, that's why I'm standing here today with you."
Afterwards, the group marched from Aurora Street to City Hall chanting "stand up for free speech," "freedom" and "democracy" to hand deliver an American flag, but were impeded by counter-protesters who took an alternate route to the City Hall and proceeded to block access into the building.?
One counter protester burned a miniature flag on the steps of City Hall before Reed, who was holding one of his own. "We are one nation, the United States of America," Reed said.
After around 10 minutes waiting outside City Hall, during which Reed twice passed by counter-protesters and approached the locked doors, the rally was over.
According to Reed, Mayor Svante Myrick "refused to receive the American flag." Prior to the rally, Myrick released a statement he'd sent to Reed, thanking the congressman for his gift, but refusing the offer citing that "the City has little need of another."
"We do though, desperately need help from you and from Congress. The federal response to the pandemic has been wholly inadequate. And the fears I shared with you repeatedly in the spring have all come true," wrote Myrick.
The Congressman took to Twitter to respond to the lockout. He claimed to have reached out to the mayor multiple times to participate in the event, that the mayor deliberately ignored him and that the mayor sent someone to lock the doors. Myrick said all three claims were false.?
City Hall has been closed to the public since March.