A visit to the doctor's office can be a stressful experience. Children in particular often become frightened at the daunting ordeal, and the experience does not become any more pleasant with age. Even adults can have intense feelings of anxiety related to doctor's offices and hospitals, which is why local muralist Mary Beth Ihnken has undertaken a unique and exciting project at the new Cayuga Medical Center location that is being built on Hanshaw Road.
Ihnken is in the process of completing her third black light mural for the CMC phlebotomy rooms, where patients of all ages receive blood work. These murals are only visible in darkness with the aid of an ultraviolet light. When illuminated, the paint glows with highly saturated, vivid color. It's the exact type of stimulation that is distracting and pleasing to the eye, especially in young children. Such bright and engaging artwork can only be fully appreciated in person, and this past week I was lucky enough to have an opportunity to do just that, and ask Ms. Ihnken more about her work. ?
As I approached the partially completed medical center, I asked one of the construction workers where I might find Ms. Ihnken, half expecting a confused look and a shrug. Instead, he immediately grinned widely and exclaimed, "Oh, you mean the dinosaur lady!" He led me inside to the room she was painting, which was dark save for the large, glowing dinosaurs on the wall. Ihnken has found that dinosaurs are some of her favorite subjects to paint, and they seemed like an apt choice to distract and calm future patients. Indeed, the Maiasauras and Trodden that greeted me on the wall were imposing, but also distinctly friendly looking. These specific dinosaurs were chosen for this mural, because theoretically that they had the strongest maternal instincts and highest intelligence, respectively, of their time period.
Ihnken is careful to conduct such thorough research while preparing for her murals because "We live in Ithaca. People will question," she says, laughing.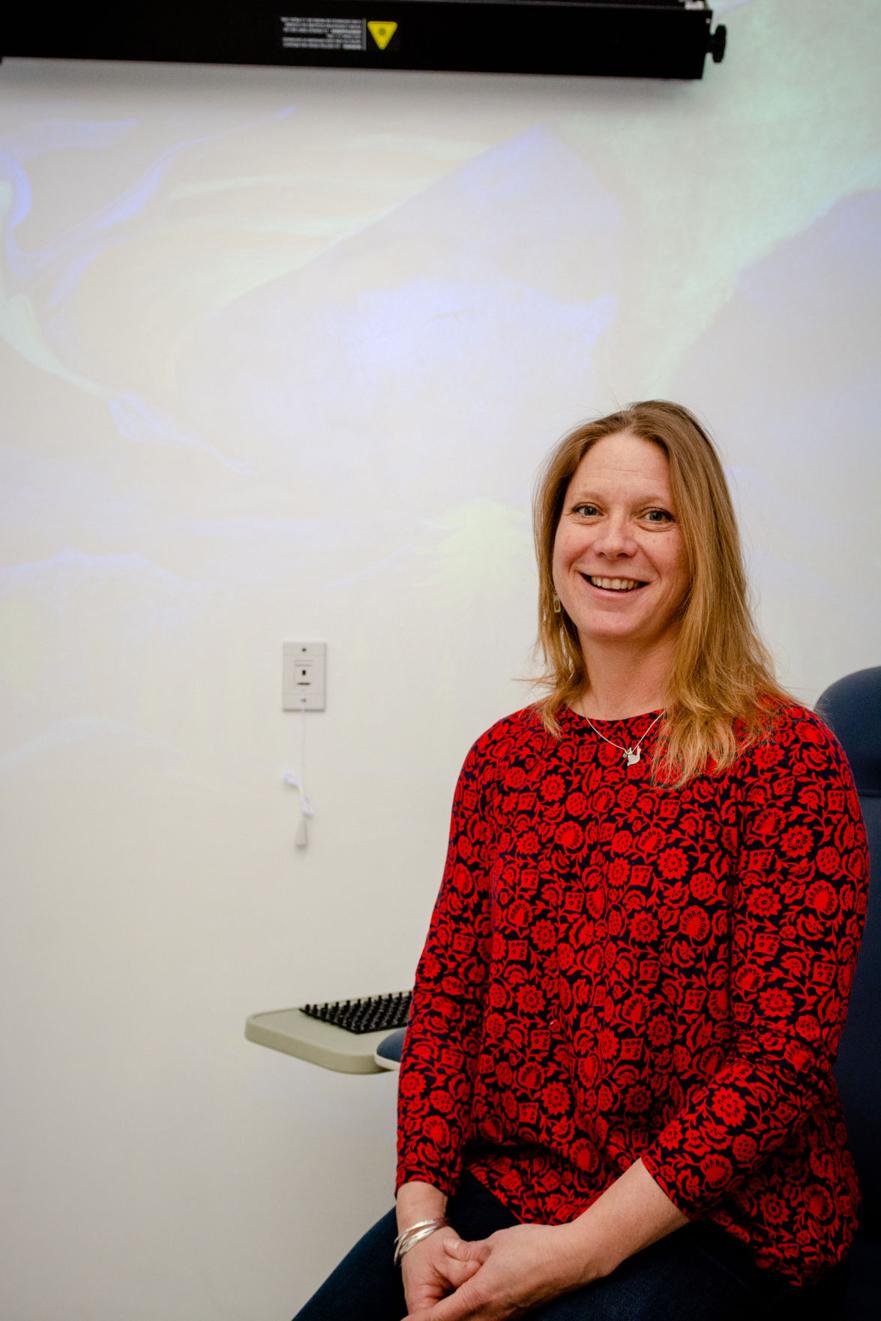 Ihnken's work has always been motivated by a strong connection to her community. After graduating from Rutgers, she moved to Ithaca in 1994 and quickly began painting furniture, which segwayed into more public works like her murals and paintings. She also does many private works along the East Coast, but she strongly prefers "painting big." She's completed murals for Alternatives Federal Credit Union, Tompkins County Library, Caroline Elementary School and DeWitt Middle School, to name a few. Ihnken's personal favorite out of her oeuvre is the 50-foot mural she painted for the Museum of the Earth in 2015, when they received a Stegosaurus skeleton from the Smithsonian. This increased her interest in dinosaurs as a subject matter, in that they elicit a positive, inquisitive response from the viewer. She told me that as an art student, "I learned a lot about theory, but I just enjoy paintings that are pretty and put a smile on your face."
Ihnken describes her work as "realistic, with some colorful whimsy." Given the unforgiving logistics of painting blacklight murals, her style has had to evolve slightly to suit her current medium. First of all, black light paints don't mix normally, so much of the conventional theory used in painting does not apply. Also, black light generally limits detail, and some of the specialty paints have less than a two-week lifespan once they're opened, so the murals need to be completed relatively quickly. Since the paint is also invisible unless viewed in total darkness, much of the work needs to be completed in the dark.
However, Ihnken cites her versatility as a key asset throughout her career: "If you really want to be an artist, you have to be flexible," Ihnken said.