People walking around downtown Ithaca over the past few months may have noticed something different — more graffiti.
Gary Ferguson, executive director of the Downtown Ithaca Alliance (DIA), said the increase in graffiti began around the start of the COVID-19 lockdown, in the middle of March leading to the beginning of April.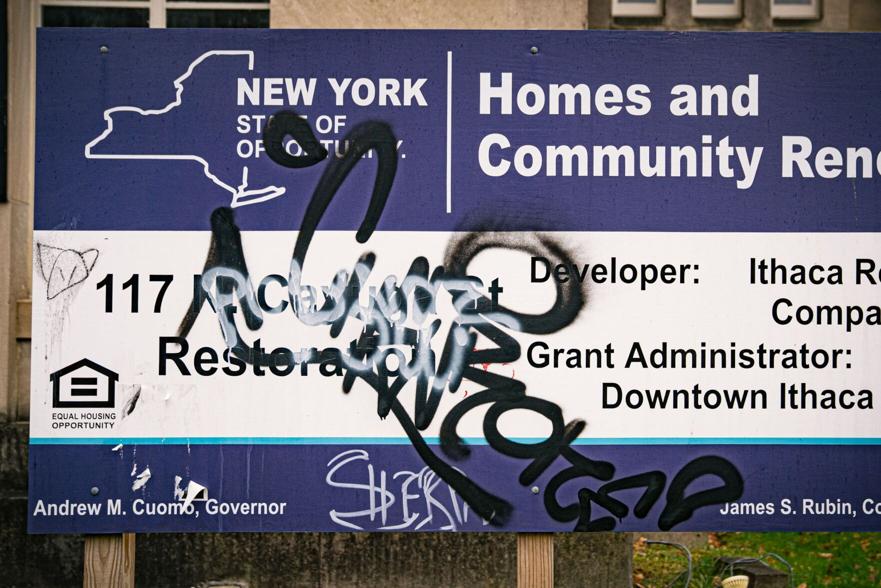 "I think that [the lockdown] provided more opportunity for people who wanted to do graffiti to do it without being interrupted or without being caught or without being called into account," Ferguson said.?
He believes graffiti sends a message to residents — and not a great one.
"Graffiti sends out the signal to the community or to people coming into the district, whether they're visitors or they're locals, that nobody seems to care about this area," Ferguson said. "Or that nobody is in control or that anything can happen. It's not always a warm signal or a warm sign, if you will."
Ithaca is no stranger to artwork adorning its empty walls, electric boxes and storefronts. But sanctioned art sends a much different message.
"We have had projects over the years where we try to work with graffiti artists to do muraling in the community," Ferguson said. "Whie some graffiti art can be beautiful, graffiti itself is a violation of people's property and space. It can make a public space feel less safe, less secure, less inviting. Obviously for those reasons, we don't like it.
Downtown Ithaca Alliance and the City of Ithaca have graffiti removal materials, and the DIA addresses smaller issues of graffiti while the City of Ithaca tends to the bigger graffiti dilemmas.?
The Chief of Police at Ithaca Police Department, Dennis Nayor, said that the department is aware of the increase in graffiti, and is doing what they can to quell it when it's reported.
"...We are reactive versus proactive these days based upon our staffing and call volume," Nayor said. "If anyone sees people committing graffiti we ask them to call us. Also they can use our anonymous tip line which is on the city website to provide information which we can investigate."?
Nathan Lyman, chief operating officer of Ithaca Renting, echos Nayor's point about the lack of police. He said he believes the increase in graffiti is due to budgetary constraints and the reduction in police workforce.? ?
?"...Current social issues have reduced the presence of the police in the downtown and their ability to act as a deterrent," Lyman said. "Additionally, with the reduced presence of other people being out and socializing in public space due to COVID, there is more time for the people to spray paint buildings without fear of being witnessed and reported to law enforcement."
Lyman, like Ferguson, agreed that the shutdown of activities and businesses has likely played a part too.
"Another likely cause is the lack of other activities due to the pandemic, which might otherwise occupy the time of people who damage our property," he said.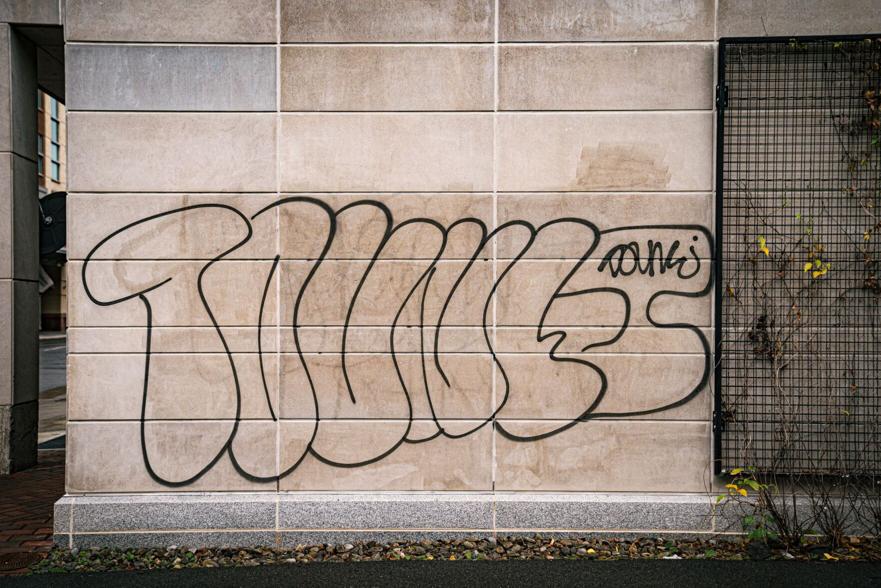 Lyman said buildings that he owns have been affected by graffiti and many are considered historically significant by the city, state and federal authorities.??
"We work hard to keep our buildings in good and attractive condition for all the tenants and the community in general," Lyman said. "Graffiti damages historic surfaces, and many times it is not possible to completely remove it.? We have limited resources and staff to do maintenance work. Having to shift workers to remove graffiti ultimately impacts our tenants, and our ability to respond to their requests for maintenance work."?
Lyman has heard concerns from both residential and commercial tenants regarding the increase in graffiti.?
"While we do hear from residential tenants periodically, the majority of the feedback we receive is from commercial tenants who are trying to stay afloat during these difficult times," Lyman said. "It is expensive and time consuming to remove graffiti. Failing to remove it invites more, and can cause patrons of the stores to be reluctant to shop there due to safety concerns."?