Over 1,000 people marched from Ho Plaza on Cornell's campus to the Ithaca Police Department downtown chanting, holding signs and making speeches as protests continued locally over the Minneapolis Police Department's killing of George Floyd and racist police violence.?
The incident has sparked nationwide protesting and rioting, and the latest gathering, called the March 4 George Floyd - We Will Be Heard event, is at least the fourth protest in the city since Saturday. It was easily the largest yet locally, with crowds stretching for multiple blocks. The event was a collaboration between?Phi Beta Sigma Fraternity,?Zeta Phi Beta Sorority, Lambda Upsilon Lambda Fraternity, Southside Community Center, Nigerian Student Association, Black Students United and?Occupy Ithaca, and had been endorsed by prominent local groups Standing Up for Racial Justice and Black Lives Matter-Ithaca.
People crowded Ho Plaza at noon to begin the march, briefly entertained by a bongo drum-playing Tredarin Crumbley. Then, led by Cornell students Devonte Parker and Jelani Hoyt-King and a host of other organizers, the group began a snaking route through Collegetown all while chants of "No justice, no peace" and "Defund the police" rang out loudly.?
Eventually the group made its way down the Commons, congregating at Bernie Milton Pavilion for several minutes before making its way to the Ithaca Police Department headquarters on Clinton Street. Another group, made up of mostly high school students, actually joined them there at that time. At the pavilion, people took turns speaking for nearly three hours, during which the crowd remained fairly strong. At its height, people took up all of Clinton Street between Cayuga Street and Turner Place, as well as part of the Ithaca Police Department parking lot next to the building. Police closed the street and guarded either end of it to protect from drivers.?
The protest went off largely undisturbed, unlike Monday's downtown event.?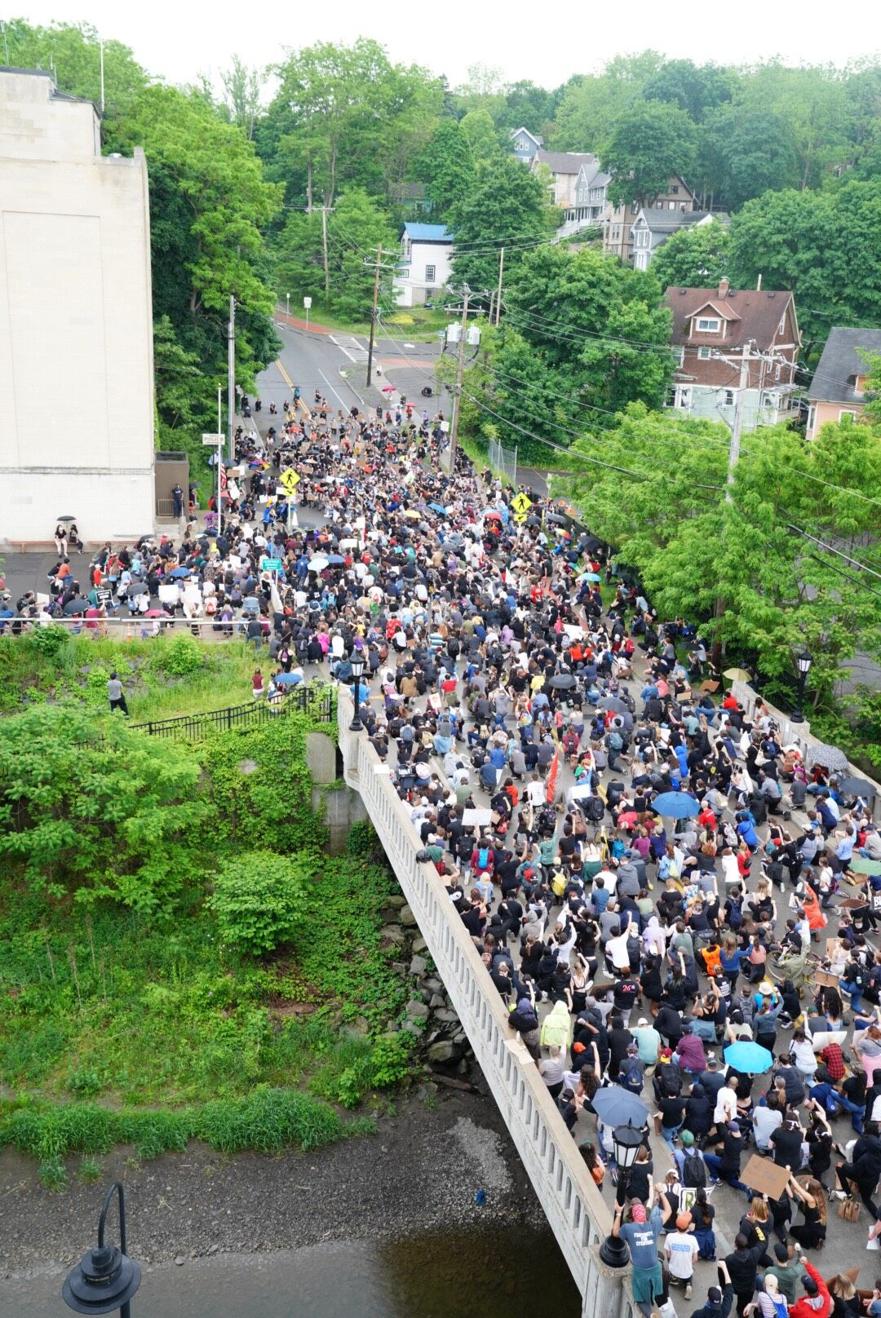 The crowd heard from many speakers, including Kamet Ripken, a 16 year old from Ithaca High School who captivated audience members for the second straight protest after delivering an impassioned speech before the crowd on Sunday afternoon. She delivered a piece she had written special for the event, highlighting the difficulties of attending a predominantly white school while being black.?
"You will never go hungry, as your textbooks constantly feed you lies about your history," she said. "When you go to a predominantly white school, you learn to adapt. But above all else, you learn to be comfortable with being so, so, so uncomfortable."
Parker and Hoyt-King also addressed the crowd before opening it up to the group. Breaking in and out of tears, Parker emotionally shouted parts of his speech to the applause of the crowd.?
"The world we made is a process of our thinking, and we cannot change it without changing our thinking," Parker said.?
A long line of speakers followed, highlighted by Dr. Nia Nunn, the Board of Director President of Southside Community Center and a professor at Ithaca College, fellow Ithaca College professor Cynthia Henderson, Multicultural Resource Center director Fabina Benites, Cornell professor and Black Lives Matter-Ithaca leader Russell Rickford, several high school students, and more, including Rose DeGroat, a victim of police brutality herself that thrust her into the spotlight last year. During the speeches, protesters taped a small cardboard casket to the front door of IPD with the words "RIP George Floyd" written on it.?
Nunn, probably the most prominent black community leader locally, had harsh, passionate words for the Ithacans who believe their city is immune to the type of racism seen nationwide, saying the "black body property mentality" is the same here as it is anywhere.?
"Ithaca, we have some waking up to do," she said. "Ithaca, you're not innocent of this sh*t."
Nunn also admonished Ithaca police for their treatment of detective Christine Barksdale, who was fired in January, as well as local media for perpetuating racism. She continued lamenting that black children have to grow up in a world in which they have to watch black people constantly being killed on video.?
"The psychological impact, the trauma associated with constant images of our bodies being killed, destroyed, treated like sh*t on screens," Nunn said. "The generational trauma is extensive and in desperate need of interruption [...] The ally concept is cute, but I need more. We need more."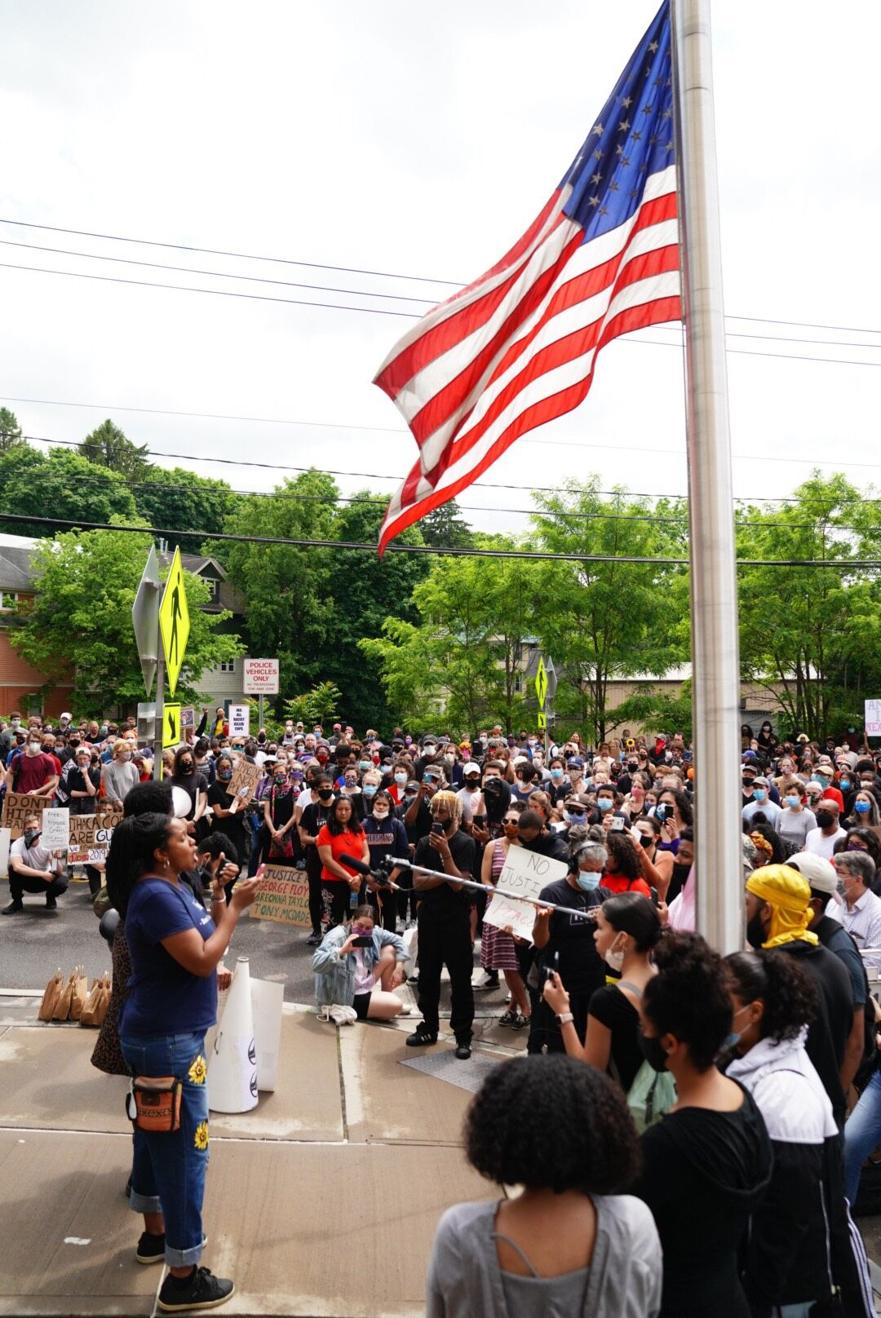 Henderson told an emotional story of childhood friend in Alabama who was lynched in 1984, making the point that black people being senselessly killed out of racism is not a modern phenomenon. She, too, encouraged for white people to be more active allies in the fight against both oppressive systemic racism and racist police brutality.?
"That's not a chip on my shoulder, that's your foot on my neck," she chanted, leading the crowd. She concluded poignantly: "If you're okay with me not being okay, then you're not my friend."
Benites, advocating a more wide-ranging approach to fixing racism, portrayed the solution as necessary but larger than what is normally discussed.?
"You can't change a law that is rooted in racism," Benites said. "You don't change it, you eliminate it. This government was created to serve only one kind of people and you know who I'm talking about."
Rickford followed near the end, covering a wide range of topics including rent cancellation, the Israeli-Palestinian conflict and local police brutality, calling for DeGroat and Cadji Ferguson, who was also DeGroat also addressed the crowd, asking them not to vote for District Attorney Matt Van Houten, who handled her case.?
"We want reparations for Cadji and Rose," Rickford said. "This is the closest we may ever come to a general strike. Everywhere we look the people are in the streets. [...] People all over the world are speaking the same language, and they're saying 'black lives matter.'"
Another protester didn't identify themselves, but delivered some of the strongest words of the afternoon calling on the effort to continue going far into the future.?
"There is so much wrong with the world, I don't even know what the f*ck is right," they said. "There is too much wrong in the world to ever be f*cking complacent again. It's too easy to get complacent."