ITHACA, NY -- As Ithaca has continued to suffer from a housing shortage, more and more real estate developers have begun to take advantage of the unique opportunity the city has to offer. With its stable, higher-education-based economy and the large commuter population, Ithaca is attractive to people like Peter Dugo, the president of Arnot Realty.
"Not too many places in upstate New York have such anchors as Cornell and Ithaca College," he said. "We think that an education-driven economy doesn't always move or change in the same ways that other economies do."
This security was the reason that, in 2017, Dugo and the board made the decision to start expanding outside of its home base of Horseheads, in Chemung County.
"We started exploring the Ithaca market, and it's a unique market that operates differently […] and we felt like there are a lot of development opportunities we can pursue."
Deputy Planning Director Lisa Nicholas said Arnot is one of many development companies that sees the opportunity in Ithaca.
"We have an incredibly active real estate market; there's so much interest in developing in Ithaca right now," she said. "It goes back to the fact we have huge employers, so not only do people already work here that don't live here, but just having those employers creates opportunities. There's a lot of capacity for growing housing and economy."
Arnot Realty's first foray into Ithaca was the Boathouse Landing development, the high-end apartments on Taughannock Boulevard overlooking the Cayuga inlet. There were already two individuals working through the development plans when Arnot got involved.
"We partnered with them to bring that project to fruition, so we opened that just about a year ago," Dugo said.
Since then, Arnot has continued to make moves in the city. The group won a bidding war for more waterfront property in September when it paid $3.79 million for the eight acres on Third Street recently vacated by the New York State Department of Transportation.
Dugo said they're still working with the state to finalize the purchase contract, so they haven't begun making any concrete plans for the property quite yet, but it's something they're looking forward to.
"We're really excited about it," he said. "There are a lot of stakeholders we want to involve in the process to come up with a development there that helps that area of the city flourish."
He added that Arnot's growth strategy focuses on developing multi-family properties and many include some type of mixed-use component, so that could be the general direction they head in.
"But again, it's so early in the process there are so many opportunities we may not have thought about," he said.
A project they have thought a lot about is the one on W. State Street. Any fans of the Planning Board or the Board of Zoning Appeals will have heard about the mixed-use development Arnot has slated for 430-444 W. State St. On Nov. 4, the BZA unanimously passed a variance for the height of the building to allow the section of it in zoning area B2-b to exceed the height limit of 40 feet by two feet.
The property will be a mixed-use building and will provide more affordable housing downtown. The first floor will be 4,800 sq.ft. of retail/commercial space, while floors 2-5 will have 129 residential units.
"State Street is the ideal development plan for that site," Dugo said. "Every site and location is unique, so we're not a cookie cutter developer that does the same thing over and over again. It has to respond to neighborhood context and make neighborhoods more diverse and help them grow and prosper. Every property has a different solution."
Nicholas agrees that Arnot's plan for that space fills a need in the downtown area.
"Increasing housing is one of the main goals of the city, and we draw people from about a five-county area to work here. So we want to create a variety of housing that is walkable and has access to transit and is close to jobs to draw population into the city," she said. "We want development to be appropriate, efficient and attractive."
When examining the W. State Street property and getting to know the neighborhood, it was clear to Dugo and his colleagues at Arnot that the area was historic. In an effort to maintain some of the neighborhood character, they decided to retain the original brick fa?ade of one of the properties and incorporate it into their own design. It's these touches, Nicholas said, that the city's planning team appreciates.
"They knew they were going to make a big impact on the feeling of State Street," she said. "This corridor has been zoned for more development for a long time, but there haven't been many big projects. We want to retain the character W. State Street has and they informed themselves about the history. They decided to keep that brick fa?ade, and that created a lot of good will. It would be less expensive to just tear the whole thing to the ground and start over, but they're giving something they knew would be of value to the community."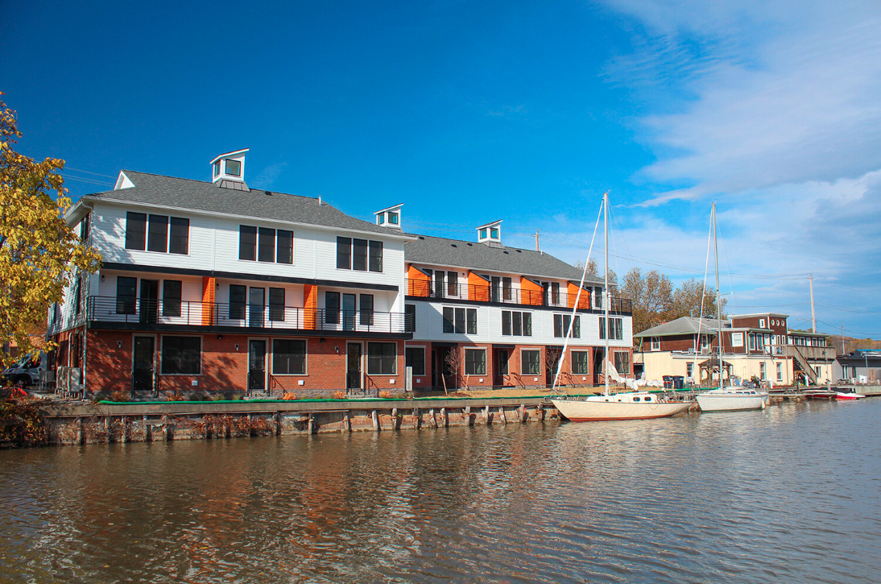 Though new to Ithaca, Arnot Realty has long shaped the towns of neighboring counties, with fairly extensive development in Chemung and Steuben counties. The group's portfolio includes The Shops at Chambers in Horseheads, which is an open-air shopping center with restaurant and retail options, the Hickory Grove Apartments in Horseheads, the Corning Social Security building, the Country Inn & Suites in Horseheads and various chain restaurants around Horseheads such as Chili's, McDonald's, Olive Garden and Red Lobster.
The pièce de résistance, if you will, is the Arnot Mall, a community staple for decades.
"Arnot Realty built [the mall] in 1967, so it's over 50 years old," Dugo said. "When they built it there were just a handful of malls in the country, so it was a type of property and industry in its infancy. It's expanded and has been a tremendous property for Arnot Realty and the community."
However, as the internet, and more recently the pandemic, has devastated brick-and-mortar retail establishments, Dugo said the group is open to a new future for the property someday.
"A lot of retailers have filed for bankruptcy or haven't reopened, and this year those challenges have been magnified," he said. "There will always be a need for retail. There was a time where retail was downtown centric and then moved to shopping centers, and now maybe it's moving back downtown. It's all cyclical and it creates an opportunity."
Dugo said he and his colleagues have been working on various redevelopment plans for the mall, and that some have even gotten close to moving forward, but that they just haven't found exactly the right idea.
"It's still a regional shopping center with really great tenants in it, so it's perhaps premature to think it has to be used for something else. But there will be an evolution."
Despite the uncertainty caused at the Arnot Mall, developments in Ithaca and in everyday life in general by the COVID-19 pandemic, Dugo believes in forging ahead.
"I guess it would be easy for someone to look at what's going on and pull the plug on new properties, but we feel like you can stop working or you continue to push forward, and that's what we're doing," he said. "We're continuing to move forward because we think that eventually we'll get a handle on the coronavirus and we'll all move out of the pandemic, and there's a good life on the other side."