ITHACA, N.Y.—?It was a cold Saturday, but hundreds of protesters still turned out to support the Ithaca Antiracist counter-protest against the Back the Blue rally on Saturday, Oct. 24 at 2 p.m. The counter protest, hosted by the Ithaca Democratic Socialists of America and the freshly-formed Ithaca Pantheras, had nearly 300 attendants who occupied the Pavilion for over five hours.
According to several reports, the Back the Blue rally had planned to take over the Bernie Milton Pavilion, the weekly meeting location for several protest organizations on Sundays, to show support for local and national law enforcement. News of the event drew additional attention after it was rumored that members of the Proud Boys fraternity, an organization recently declared a hate group by the Southern Poverty Law Center, said its members would attend the rally.?
The protests occurred on the first day of early voting, one block over from the Town Hall polling site. Protesters on both sides showed concern that their events would be forced to disperse if local authorities decided that the protests verged on voter intimidation. Counter-protesters said the protest wasn't about politics, but about "taking a stand against hate."?
In an unexpected turn, counter protesters, who have been rallying outside IPD repeatedly over the last three weeks, worked with police to develop a plan that would limit the chances of any physical altercations.?
A representative for the Ithaca Pantheras said she was happy to see so many people show up for the festival and to see the police work with the protesters to create a safe event. "That kind of progress wouldn't have been possible, had we both not had the faith to even interact with one another," she said. "It's definitely indicative of a step forward with the police — people saw that they could talk to the police and have them hear what [protesters] were saying."
In the early hours of the counter-protest, attendants strategized and worked on creating signs. Using a color-coded system, the counter protesters arranged themselves into groups responsible for greeting new attendants and intervening in confrontation. Other attendants took turns painting a large plastic banner that they would later hold before Back the Blue protesters.
"You can tell safety is really being prioritized," one attendee commented on the organization.
Back the Blue ralliers gathered around 2 p.m. at the Cayuga Street entrance to the Commons. Led by Rocco Lucente, around 70 protesters holding law enforcement and Trump 2020 flags listened to Lucente and others speak on the purpose of the rally.
"I think that when you look at the statistics, the idea that police are a systemically racist agency is simply an unfounded claim," Lucente said. He said that he organized the gathering to show support for law enforcement in an area where he feels they don't generally receive it.
During his second address to Back the Blue ralliers, he described the counter-protesters as a mob set out to bully people of opposing beliefs .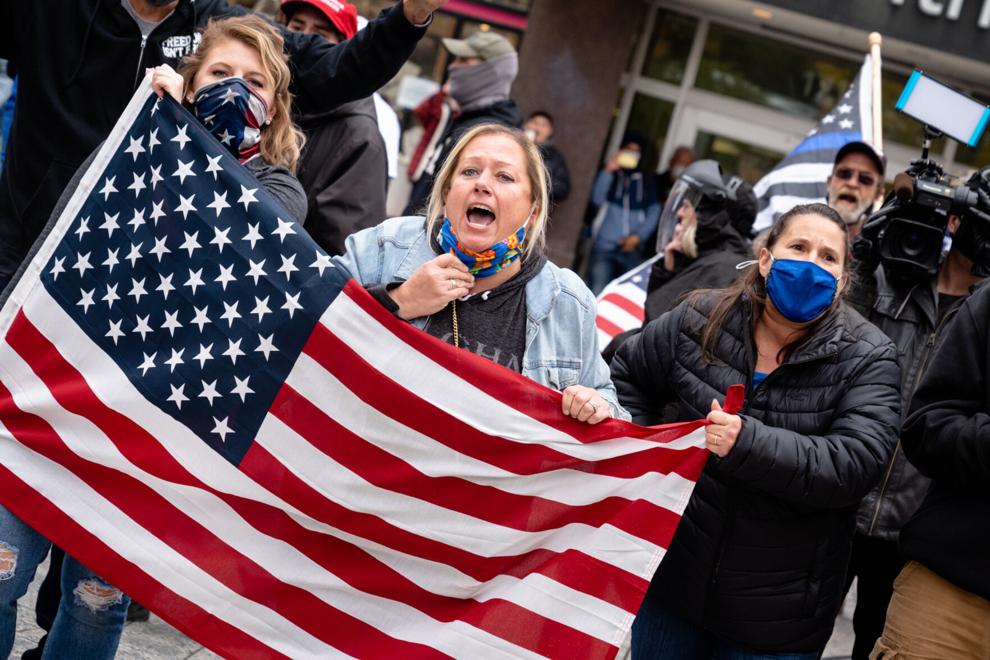 Lucente also railed against the "false narratives" being perpetuated by the media and local government about law enforcement. He pointed to the events of last week's protest along Meadow Street where multiple fights broke out.
?"We will not be pushed around by an angry mob," Lucente shouted.
Appearing anxious to address the counter protesters, Back the Blue ralliers unexpectedly, and to Lucente's surprise, left the Cayuga Street entrance and met with counter protesters at the edge of the Bernie Milton Pavilion where they faced off 50 feet apart, shouting back and forth for hours.
"No Hate, No KKK, No More Fascist USA," counter-protesters shouted from behind a banner brandishing the same phrase, while a handful of? protesters from both sides traveled back and forth between groups to challenge one another, occasionally arguing over historical precedents, communism and racism.?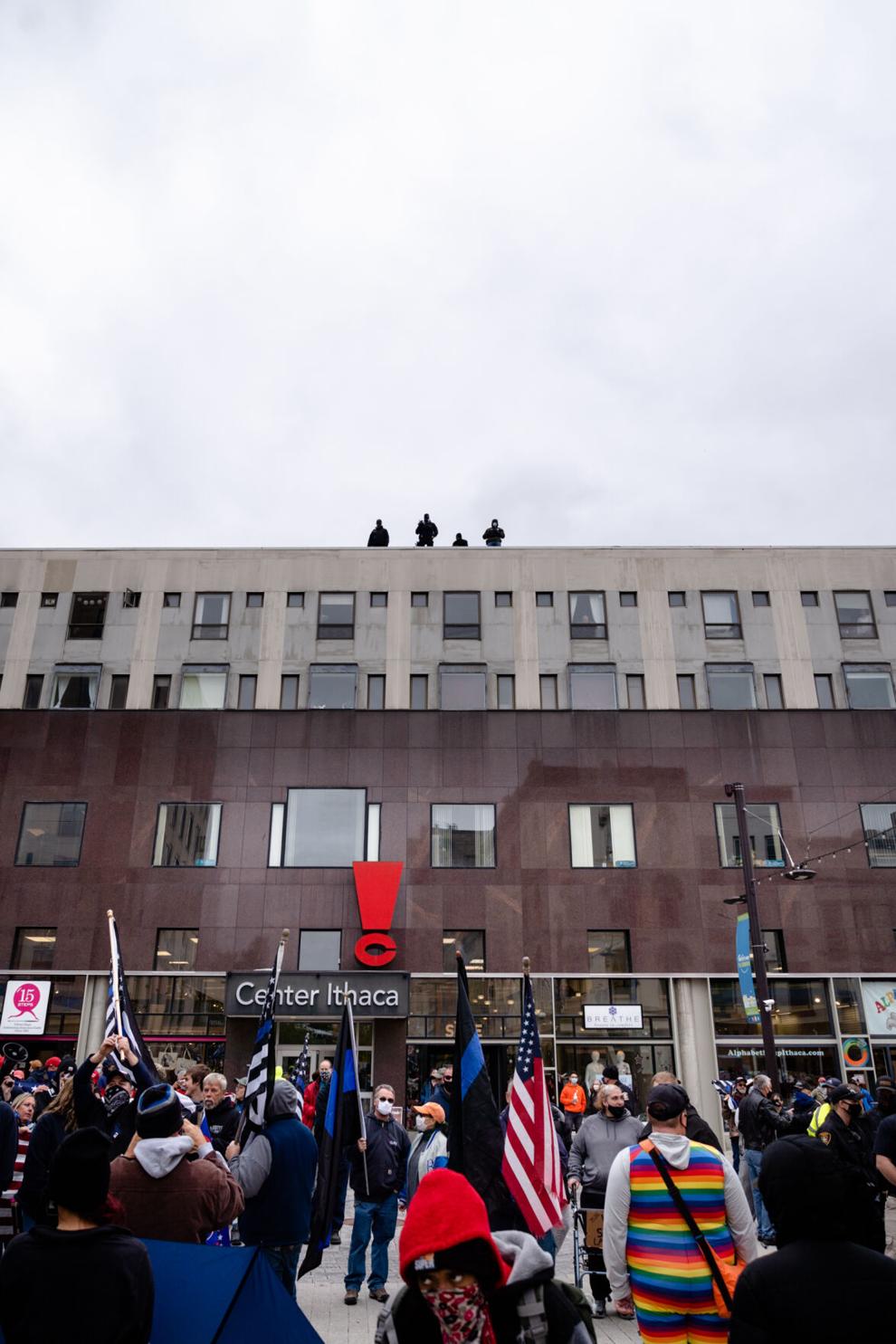 Saturday also saw the largest law enforcement presence since protests began in June, with officers from multiple agencies, including IPD, New York State Police and the Tompkins County Sheriff's Office, keeping a watchful eye on protesters from the ground and rooftops above.
In particular, they seemed to be watching members of the Proud Boys, one of whom had arrived with a Level IV bulletproof breastplate, walkie-talkies and other gear tucked in his pockets.
"If anything happens with him, it'll be an all out melee," one officer was overheard saying.
The Proud Boy, who identified himself as Cobb Johnson, said that he'd traveled from Syracuse with other members of his upstate New York chapter to support and protect Back the Blue protesters who had been silenced at their previous gatherings in Ithaca by counter-protesters.?
"For the last week, we've had people who've been trying to come out here and peacefully protest and they've been attacked and harassed by other groups," said Johnson.? "We didn't want the interference to happen again, so we just showed up to make sure peace was kept,"?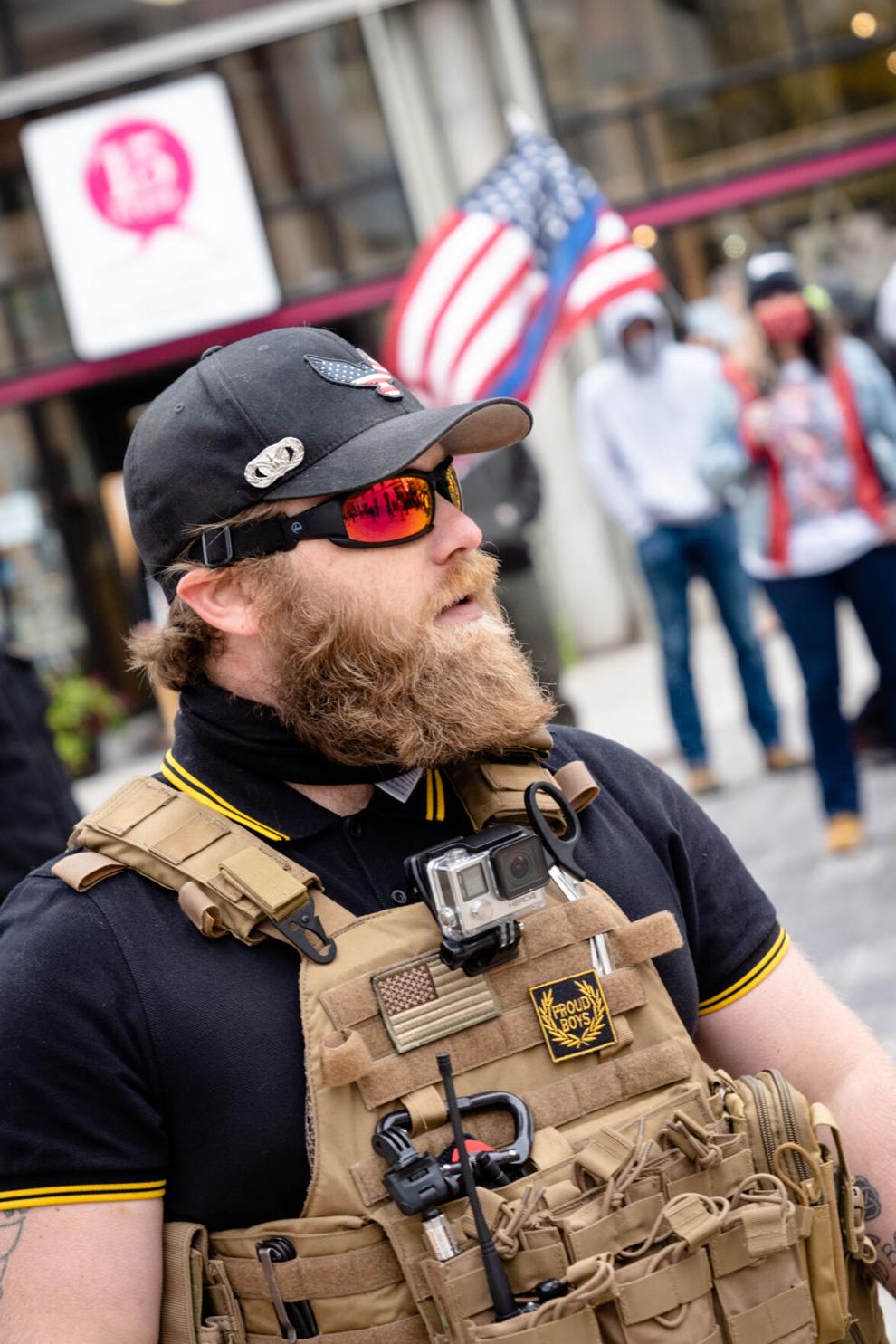 He continued: "There's just been too much violence and we don't want the violence but if there has to be, [the Proud Boys] will be here for it, but we don't want it."
Ahead of Saturday's protests, law enforcement and Mayor Svante Myrick released statements to the community warning people against attending the Saturday protests, but the warning didn't appear to have the effect the parties had hoped. Back the Blue protesters blamed Myrick for being too lax with counter-protesters, and Antiracist protesters said they were upset that the mayor didn't direct his warning at Back the Blue protesters and the Proud Boys.
After two hours in the finger-numbing chill, protesters began to disperse, with the remaining protesters on the Back the Blue side composed of Proud Boys and older men holding thin blue line flags. Lead organizer, Rocco Lucente left before 4 p.m.?
By 5 p.m., Antiracist protesters had turned their chants of resistance to dancing in celebration.?
"I'm really, really proud of everyone who came out today. We're ecstatic to have seen everyone show up," the Ithaca Pantheras representative said.?
?