Some of Ithaca's most popular and successful fundraising events also double as interesting sports stories, and it has been a pleasure to provide coverage. Women Swimmin', Pud's Run, numerous golf tournaments, Walk-a-Thons and, of course, the Ride for Life.?
????????I have watched the Ride for Life grow from a novel idea to a powerhouse of a fundraiser since its inception in 1999, and I have really enjoyed watching people push themselves past what they perceived as their limitations and help others while doing so.?
????????When the Ride for Life was launched, the name of the agency was AIDS Work.? It is now the Southern Tier Aids Program (STAP), and Mary Kaminsky, STAP's Director of Development, was kind enough to talk to me about this year's event.? According to her, "We all wondered, 'What are we going to do?'? The Covid situation made it necessary to cancel all our other fundraising events, and since everyone's safety is of utmost importance, we decided to make the Ride for Life a virtual event."? She added, "We then decided that since it is a virtual event, people can do anything, anywhere, anytime, and it has been great to see how people have decided to participate!"
????????Some of those imaginative game plans include a rider named John Zisk, who has recruited sponsors to support his effort to ride circuits along the coast of Maine.??
Another rider – Lee Holman – will ride around each of the Finger Lakes over the course of the 4-week event, and Adam Brumberg will crank out 317 miles.? I asked Mary how he settled on such an odd number, and she replied, "The Ride for Life gives riders an opportunity to choose from five distances – 14 miles, 42, 69, 90 and 102 miles, and 317 miles is the sum total."? Got it…
There is a team from the local First Baptist Church that is riding a collective 6,000 miles to replicate the distance from New York to California and back, and a motivated participant named Barbara Fry will be walking upwards of 300 miles over the course of the event (which runs from August 12th to September 12th), and a team branding itself as "The Holy Walkamoles" (Mary Kaminsky's team!)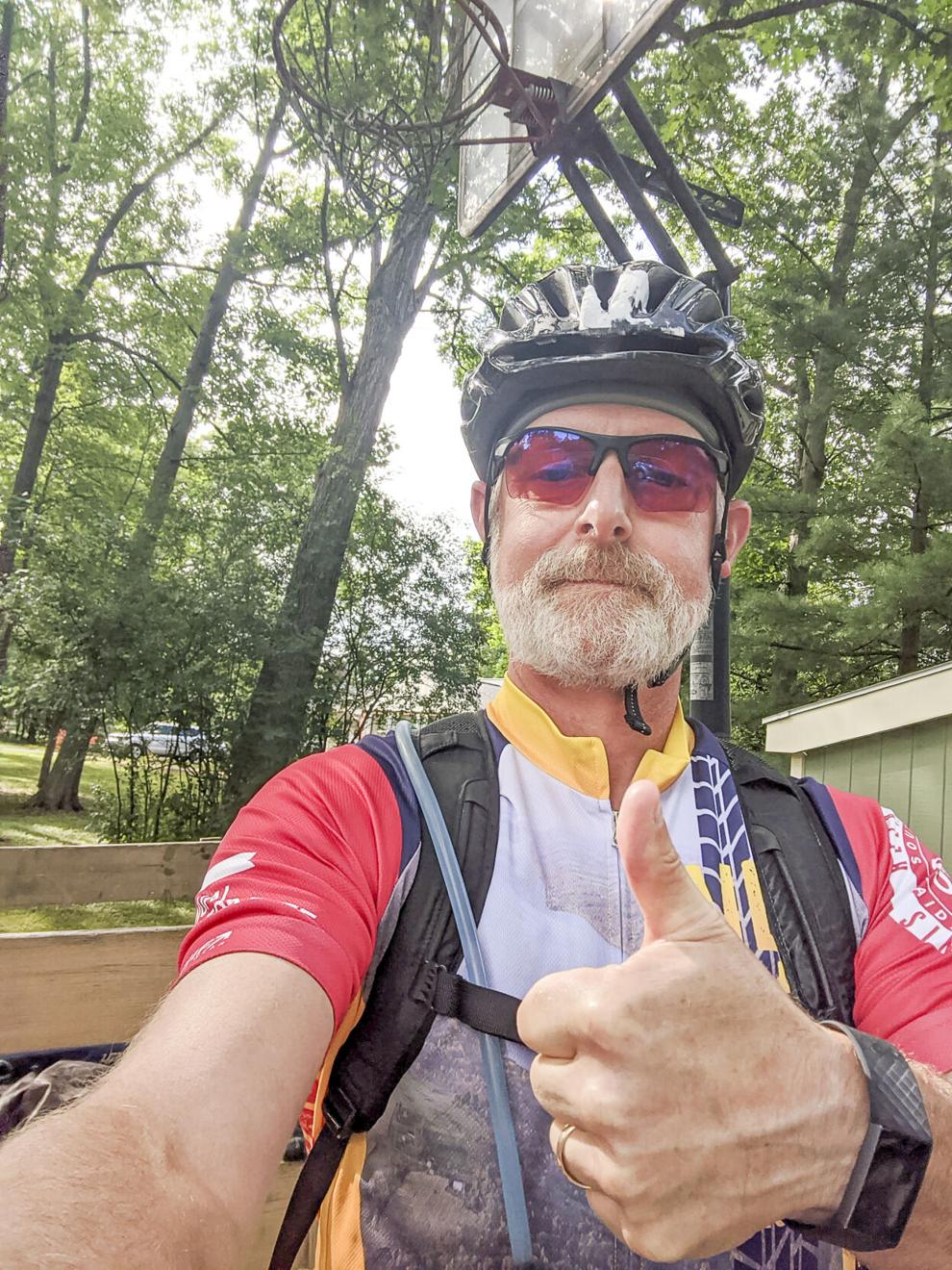 ? ? ? ??There is also a dedicated Retriever/Pit Bull rescue dog named Whiskey who has convinced his human companion, Hannah Van Ostrand (the STAP Program Assistant), to get involved with the event, and their ongoing walks are adding to the effort while strengthening their bond and all six of their legs.? ? ?
I asked Mary if the perception that issues related to HIV/AIDS are "yesterday's news," and she was grateful for the opportunity to address such an inaccurate view.? "HIV is not over, not yet," she offered.? "Prevention efforts are now at the forefront, and we are doing a variety of things to help those we serve.? We are offering free, at-home testing and we have a syringe exchange program."? She continued, "The COVID crisis has caused an uptick in ODs, and we are doing our best to reach people where they are.? We are doing our best to be creative in how we provide services, as people are quite isolated now.? In our Binghamton office, we have moved the food pantry to the front porch, and it's truly amazing how flexible our staff has been in meeting people's needs. Our Care Managers are doing a lot to help people who are homeless, as a lot of staying healthy involves hand washing and staying clean, and it is quite difficult to do many of the things you need to do to take care of yourself when you don't have a home."?
????????As stated, the virtual event is underway until September 12th, so there is still plenty of time to combine your creativity and your desire to contribute to the well-being of some of your neighbors who might be facing difficult times. The uncertainty and depression brought on by the COVID crisis has elevated the level of risk for many people, and STAP is one of the agencies doing whatever it can to make a difference.???
????????Please visitwww.aidsrideforlife.org for more info. ?