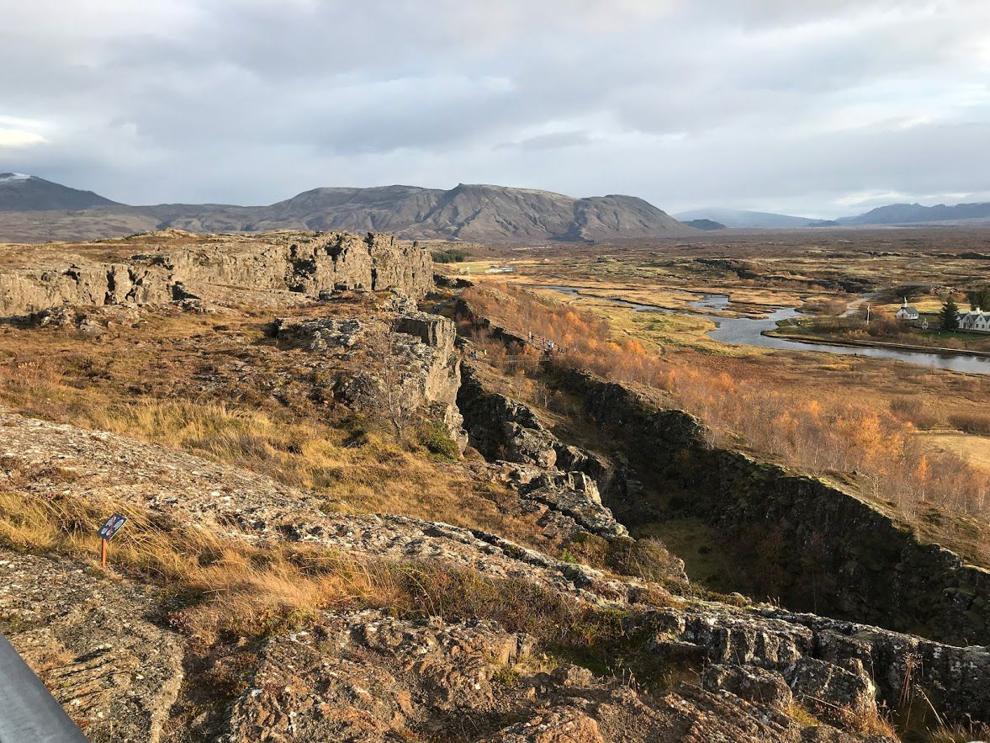 If you wish to revel in beautiful scenery, featuring one gorgeous waterfall after another, in a friendly country where most people speak English and where there are sufficient activities for diverse travelers, Iceland is a good choice. Depending on headwinds and tailwinds it is no more than a five and half hour flight from the East Coast and can be little more than four as it was on our flight to Reykjavík. In recent years Iceland has become a major tourist destination for US citizens because it offers fabulous landscapes and is relatively close to the northeast. Nor is it very expensive except for restaurants. Most of the 360,000 inhabitants (about 13 percent of whom are immigrants, mostly Eastern European) speak English.
My wife Marcia Jacobson and I flew from New York on a Saturday, arrived early Sunday and departed late the next Sunday; for us eight days was about the right length for a visit. We bought a moderately priced tour costing about $2500 each from Nordic Visitor. Somewhat tightly packed into a limited space, we circumnavigated the entire country for six days in a Mercedes van with fourteen other passengers.
This is not the tour for those who want lavish hotels and bellmen to handle their luggage. Indeed, luxury travel to Iceland is often by ships that stop for day tours to the mainland.
Our rooms in the hotels and the one guesthouse were comfortable, immaculate and provided good views of the surrounding setting. The hotel staffs were on the whole friendly and accommodating. We were provided with more than adequate breakfasts, including herring, yogurt-like skyr, and various homemade breads plus meats and cheeses. On three nights simple but satisfactory three course dinners were included. For lunch we made simple sandwiches from the breakfast buffet rather than, as our fellow travelers did, eat heavy lunches of fish and chips and pizza, which were staples of our lunch stops. We enjoyed the exceptional quality of Iceland's drinking water, the result of its mountain and glacial streams.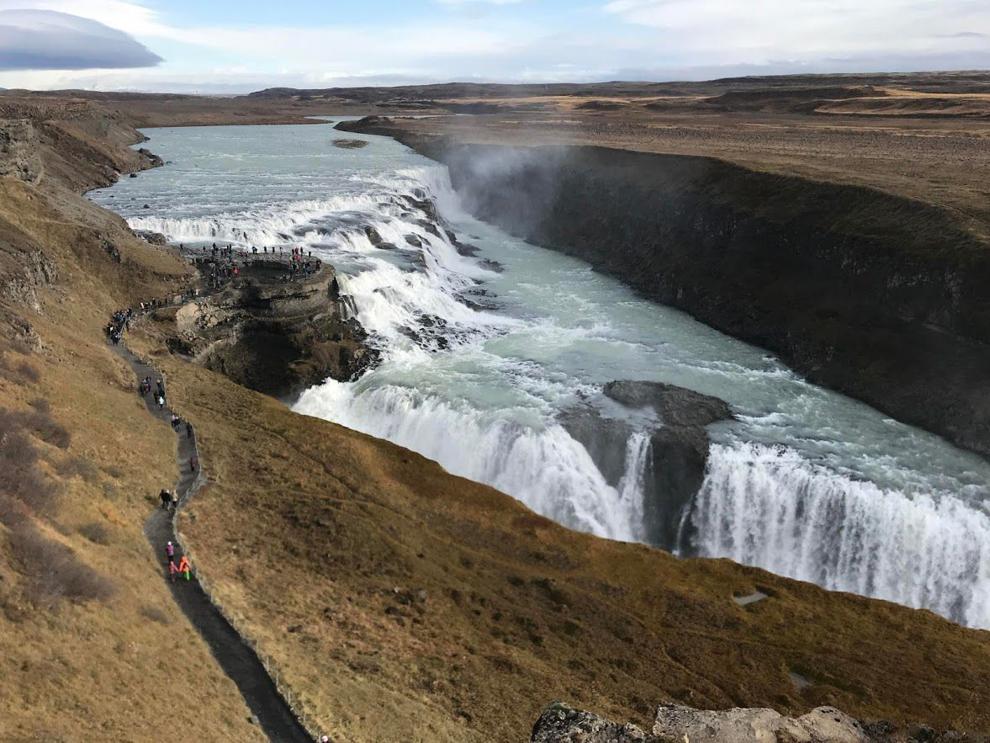 Our nature loving and enthusiastic driver-guide, Boga Kristin (Kristin Dottier), drove an average of about 200 miles a day and we made quite a number of stops each day, many of them short photo stops.She photographed everything even though she had made the trip many times. Most of the time she left us on our own at our stops. As with all group tours, she decided when and where to stop and when to eat lunch, go to bathrooms, and what time to reach hotels. If I were finding fault with her, it would be that her English could have been better when complex explanations of Icelandic history, culture, and politics were called for.
As with all group tours, members have two obligations: to be on the bus on time and to say good morning, and even the good morning is an optional. Because most tour members spend more time with each other in the course of the tour than they will with members of their families other than their spouses and young children, it helps if the group members are friendly, non-judgmental, gracious, and mannerly with others, and by and large, despite strong political differences, this group fulfilled those criteria.
Our hope of seeing northern lights (aurora borealis) was unfulfilled; we chose to visit Iceland in October, which is close to winter in a country that has a very short summer, because we were told that it was a good time for the northern lights. However, you can't make appointments with northern lights any more than you can with leopards on a safari. Unlike some tours, we did not walk on glaciers, go whale watching, boat into the glacier area for a closer look, or go snorkeling; nor were these activities offered as options, although you could purchase them before or after the tour, Many visitors rent cars and tour at their own pace; others stay in Reykjavik and book day tours rather than circle the country and see as much of Iceland as we did.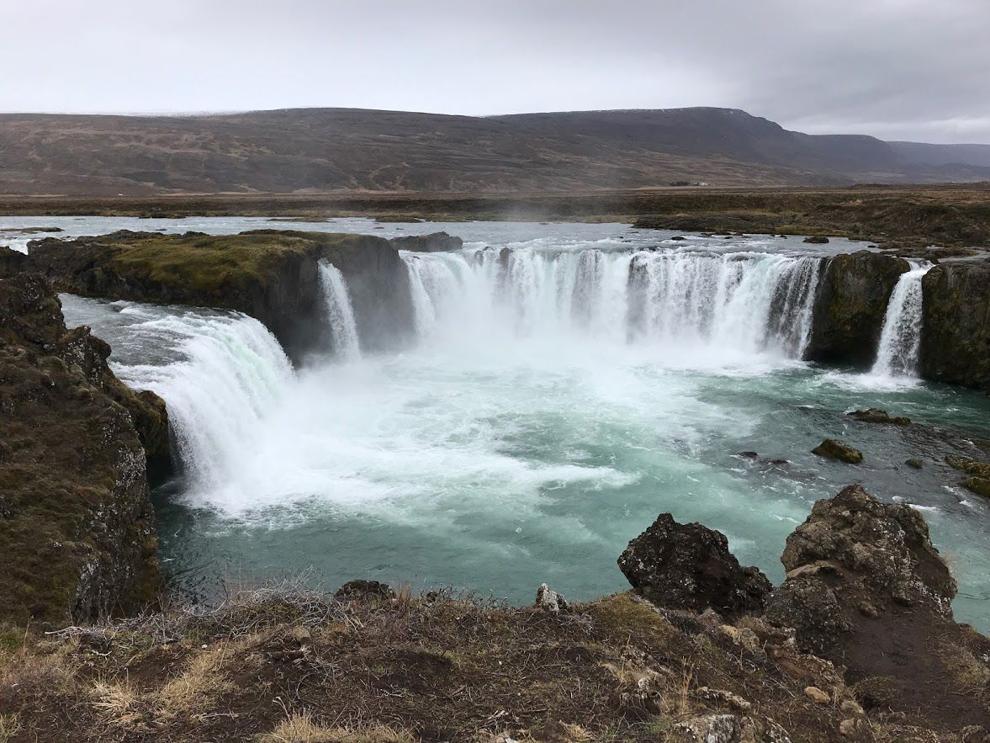 On our arrival day we explored Reykjavík on our own but walking tours are available.We began with Hallgrímskirkja a modern Lutheran church designed by the Guejón Samúelsson in 1937 and built between 1946 and 1986. The church is Reykjavík's main landmark and its tower, which can be climbed for splendid city views, is visible from almost everywhere in the city. We also visited an art gallery and the waterfront, but be advised that Reykjavík is more a pleasant town than a major city with world class sites. Local friends took us to a splendid dinner at Grillmarkadurinn, an excellent restaurant
Our Driving Tour
On the next day we began our drive and toured the natural wonders of what is called Golden Circle which is the centerpiece of all tours of Iceland.?We visited the Thingvellir National Park, the site of the rift between two tectonic plates as well as the site of the first Icelandic parliament about 944 AD and the place where Iceland celebrated its independence from Denmark in 1944.?
With a short hike on a very windy day we also explored both Gullfoss, a fabulous two-tiered waterfall, as well as the Geysir where a hot spring dramatically shoots hot water and steam into the air. Gullfoss: two-tiered waterfall.
Because of windy, stormy weather in the south of Iceland, on the second day of driving we changed the order of trip and went north for our second and third driving days rather than continue in the south. Some areas of the north are defined by stark, bleak mountains and few people.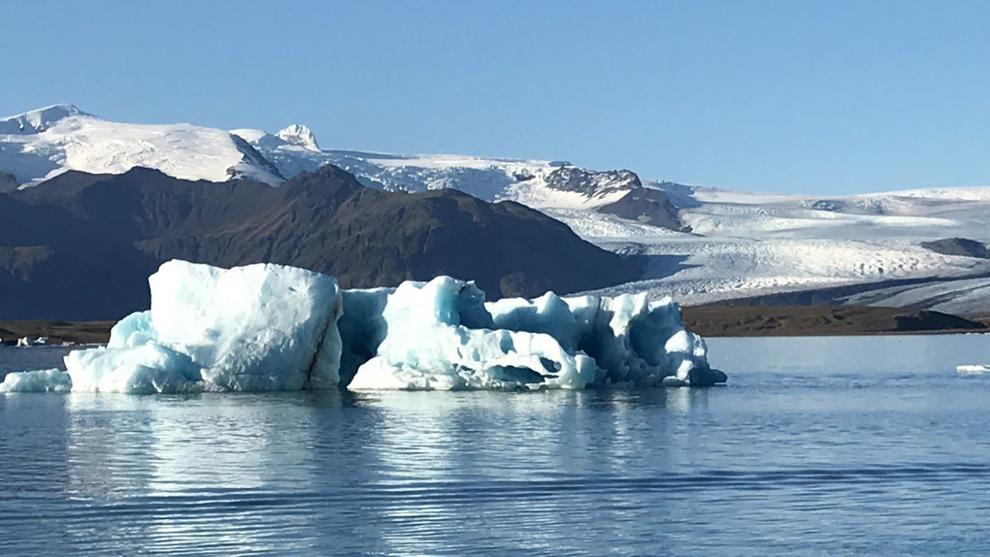 Highlights of the north include the impressive 99 foot wide Godafoss waterfall (Godafoss translates as "waterfall of the Gods"); and the biological garden and picturesque modern church at Akureyri, a large and prosperous town.?
Our stop on the second night was Hofsstader guesthouse where we had a quite splendid albeit simple group dinner, featuring tasty vegetable soup, arctic char and cod in a nice sauce, and coffee cake with ice cream. Our third driving day ended with a stop at Fosshotel Myvan; after a sauna we bought a nice dinner including a pasta seafood dish, arctic char and a chocolate truffle desert.?
On our fourth driving day we drove through volcanic lava and stark low mountains and saw striking waterfalls before arriving at Hotel Framtid in Djupivogur. In a house over a 100 years old, this rustic hotel overlooks the harbor which serves as a fishing center for cod. We had a sauna and an included group lamb dinner in the hotel.?
After a long sixth driving day, our tour ended in Reykjavik, and we stayed at the same modest and somewhat impersonal Storm hotel where we spent the first night. Our last stop was at the recently opened Lava Center, where we learned from an informative and sophisticated exhibit about Iceland's volcanic activity. Had we done the tour in the order planned, this stop would have been more helpful. Another important learning stop which would have come earlier was the Skogar Museum which features historical artifacts and restored buildings, including turf farmhouses, a school and a church which show how earlier settlers lived.?
We also stopped twice at waterfalls, once at Sejaalandsfoss, where a path takes visitors behind waterfall, and once at a cascading waterfall at Skogafoss. We also enjoyed the black volcanic beach and its caves near Vik.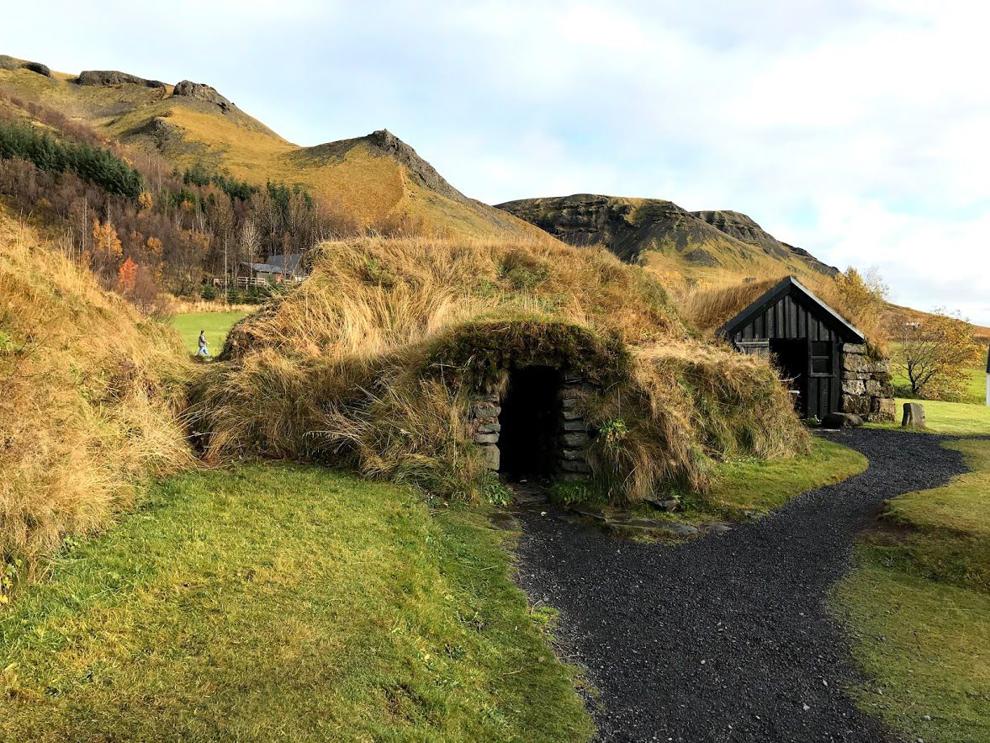 Conclusion:
Most impressive is how Iceland's small population has kept alive its language and culture since the ninth century in the face of invasions and wars while living in a harsh climate close to the Arctic Circle. While we did not see the Northern lights, we learned about Iceland and saw a truly spectacular and varied sublime landscape: waterfalls, glaciers, volcanic rocks, black sand beaches composed of lava, geysers, and rifts caused by tectonic movement.?
Daniel R. Schwarz is Frederic J. Whiton Professor of English and Stephen H. Weiss Presidential Fellow at Cornell University.