"What preposterous complications do you tolerate in this town?" That's not only a line from Carlo Goldoni's 1763 comedy, "The Fan," but an apt response to The Cherry Arts' bold al fresco production in Stewart Park.?
Theatregoers have longed for community these past six COVID-isolated months, and we finally have it: seating for this free production is demarcated by safely distanced chalk circles on the grass, each "pod" holding one to five people. Though bitter winds assaulted one evening's show, Saturday's matinee was a sunny pastoral idyll, and this week promises to be warmly inviting.
Ever inventive, The Cherry Arts serves up this farce with masked actors, "lip-synching without lips," as director Sam Buggeln puts it. On a wide raised stage worthy of an 18th century Italian piazza, a dozen young actors in colorful period costumes gesture and scamper about, their dialogue voiced by well-known local professionals. And thanks to Lesley Greene and Kate Griffin's excellent sound projection, every bit of banter is clearly heard. Onstage locales are tagged by bright banners, like "modest house" and "apothecary."?
This production captures the madcap spirit of farce, both in script and staging. Thwarted love, false impressions, greed, patriarchal and class control, squabbling and sucking-up –– the entire crazy social landscape unfolds in near-cartoon form. The actors' boundless energy is at its highest during the impromptu dance numbers to 1960s Italian pop music, a comical gift itself.?
"The Fan" turns on a series of misunderstandings when a suitor's fan intended for his beloved goes on an absurd voyage of its own, passing among successive owners of different classes. In the process, everyone's failings –– and strengths –– are exposed. Theatrically innovative, Goldoni successfully served up old wine in new casks: a prolific playwright and opera buffa master, he took the old commedia dell'arte conventions to a new level. His humanistic comedies reflected the rising middle class, the faltering nobility, and the squashed serving class alike. A quarter-millennium later, these themes still resonate.
Romantic love is at the center, as Signor Evaristo (Robert Denzel Edwards, voiced by Benno Ressa) seeks to woo Candida (Isabelle Dickey/Sandrinne Edstrom) under the watchful eye of her protective, gracious aunt (Joseph D'amore/Cynthia Henderson). A gossiping shopkeeper (Teresa Gelsomini/Amoreena Wade) sells Evaristo the eventually troublesome fan. Meanwhile the saucy servant Giannina (Ronee Goldman/Darcy Rose), who takes no guff from anyone, is in love with the cobbler Crispino (Will Devary/Jacob Garrett White), but her domineering brother (Jeff Tagliaferro/Austin Jones) has promised her to the innkeeper (Adara Alston/Eric Brooks).?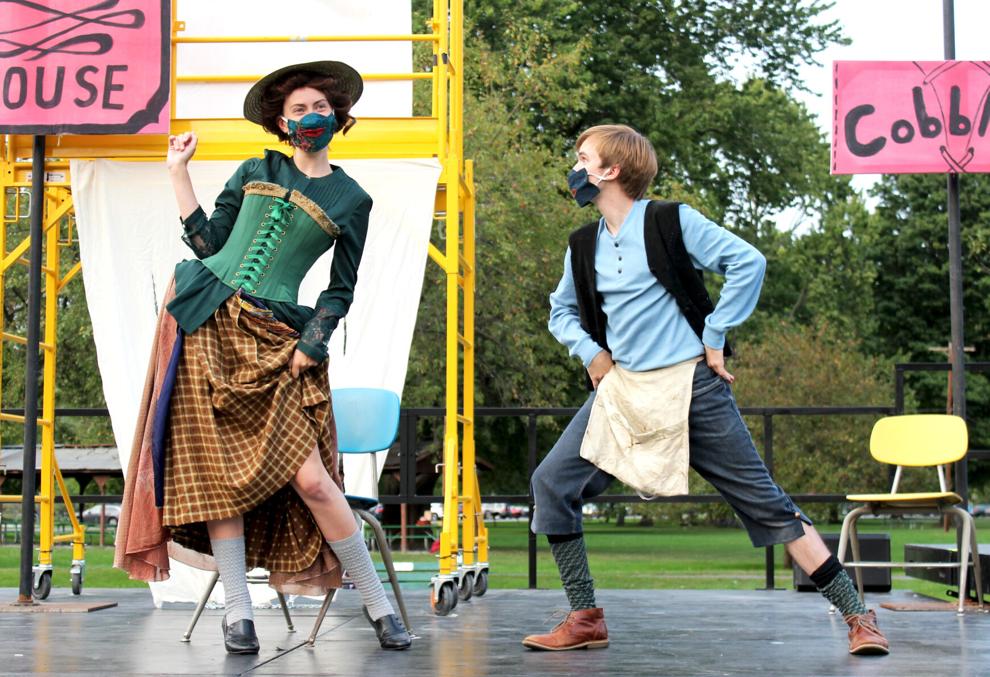 Trying to horn in on all the action is the local count (Benno Ressa/Jeffrey Guyton), who's cheap, opportunistic, and full of his own inflated sense of power. The windy braggart offers "patronage" to everyone who shows a shred of deference to his rank. Foolish and self-absorbed, he's a delicious comic figure, amusingly tiresome.?
Another standout in this well-executed ensemble piece: Giannina, whose irritation and sense of injustice are likewise richly played. Both inherit the long history of their stereotypes (Pantalone, moneyed master, and Zanni, upstart servant) in comedy and opera.?
Predictable as the plot may be, the action is buoyant, even effervescent –– just as in cartoons, farce, and, for that matter, most comedy, the fun is partly in repeating the expected. Spirits lifted, Saturday's audience indicated their pleasure with noisy applause.?
"The Fan" can now also be seen online at The Cherry Arts website. The play kicks off a promising season, which next offers a streaming show, "The Day," from November 13-21. By Québecoise Gabrielle Chapdelaine, it features Ithaca favorites Karl Gregory, Jahmar Ortiz, Erica Steinhagen, and Sylvie Yntema mysteriously connecting over the course of a "normal" day.
---
Carlo Goldoni, "The Fan," continues on Sept. 24-26, 5:30 p.m., and Sept. 26, 2 p.m., in Stewart Park. Performances are sold out, but checkwww.thecherry.org/the-fan/ for wait lists and possible extra performance. A free online version is also available.
Barbara Adams, a regional arts journalist, teaches writing at Ithaca College.