ITHACA, NY -- A Chinese laundry boy in 1920s Vancouver, his heart set on playing hockey, disguises himself in order to join a women's team. That's the intriguing premise of the "The Valkyries," which opens Jack Wang's debut book, "We Two Alone."
Six short stories and a novella comprise this collection, initially published last year by Canada's House of Anansi Press and released this week by HarperVia, an imprint of HarperCollins "dedicated to publishing extraordinary international voices." The imprint promises?"books that take you everywhere," an accurate description of the scope of Wang's stories, set in far-flung places –– Vancouver, Vienna, South Africa's Port Elizabeth –– reflecting the Chinese diaspora over a century. Praised as "utterly remarkable," "We Two Alone" has just won, from The Writers' Union of Canada, the Danuta Gleed Literary award for the best debut collection of short fiction.
Sponsored by Buffalo Street Books, Wang will be reading on Tuesday, June 8, at 7 p.m., online via Crowdcast. (To register: https://www.crowdcast.io/e/jack-wang). He'll be joined by actor Feodor Chin (one of the U.S. audiobook narrators) and will also share historical images.
An associate professor of writing at Ithaca College, Wang is also known as the co-author, with his twin brother Holman, of a dozen Cozy Classics and three Star Wars board books for children. He's currently working on a novel, "The Riveters," about disenfranchised Chinese Canadians who served in the shipyards during World War II. He spoke recently with Ithaca Times correspondent Barbara Adams.
IT: How did this collection come about?
JW: For a number of years, I was working on a novel that I finally put in the proverbial drawer. I?wanted to work on a project that I'd get to the finish line sooner with, and so I decided to turn my attention back to short stories. I hadn't written any for a while, but I'd been teaching a lot of fiction writing workshops and felt like my understanding of the short story had evolved.
IT: The six short stories have all been previously published. Which one did you begin with?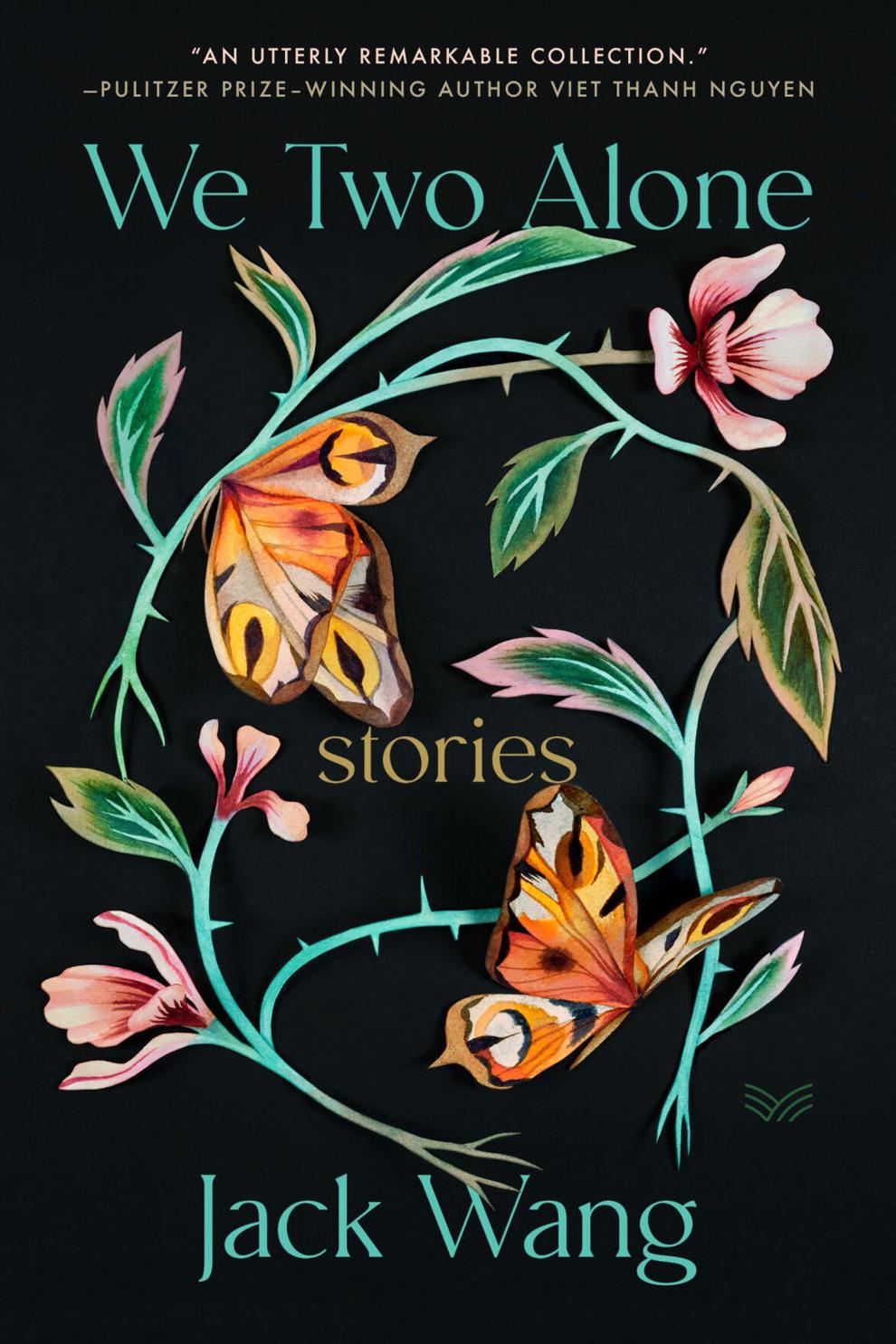 JW: "Allhallows" was the first, in 2012 –– close friends were going through a divorce, which made me imagine a divorced character, a former hockey player, who was still in love with his ex-wife. The next story, "The Valkyries," also happened to involve hockey. In the beginning I was just following discrete interests, each story its own project. But after these two I had the first inkling of somehow connecting stories that spanned nearly a century.
IT: "The Night of Broken Glass" takes us to November 1938 in Vienna –– the Kristallnacht pogrom there.
JW: That has a very particular origin story. In 2010, I went to the World Exposition in Shanghai and visiting the Israeli pavilion, saw a plaque dedicated to a man named Ho Feng-Shan –– thanking him for saving lives during Kristallnacht. Why had I never heard of him? I went on to read his obscure diplomatic memoir and his son's scientific memoir and used them as a basis for writing a story.?
In his memoir there was a single line: "while all this was happening in 1938, my marriage was falling apart." I felt that was interesting and so imagined my way into his personal life –– as a fiction writer, that gave me a task, something to invent. After this story, the collection really began to take shape, and I started adding to that global portrait of the Chinese diaspora.?
IT: Have you always been drawn to the history of Chinese outside China, the diaspora, or did the stories you wanted to tell lead you to these places?
JW: Here I was interested in writing about Chinese characters and their experience in the world, not the diaspora at first. And I wanted to break out of the more familiar immigrant narrative of coming to North America in late 20th century, in order to create a broader portrait. But when I was younger, I didn't always write about Chinese characters. It took me a long time as a writer to shake off a lot of the reading I'd done (I'm a bit of an Anglophile) and to understand?that Chinese people can be the subject of literature. These days, I'm always writing about Chinese characters, because there's still a lack of representation.
Previously, I'd worked with more semi-autobiographical fiction. But now, drawing on history, I found that refracting my own experiences through different times and places helped me find, indirectly, what was interesting about them.
There's one bit of family history that made it in, though, toward the end of "The Nature of Things," where family members have to hide under the household altar to escape the Japanese attacking the house. That actually happened to my maternal grandmother.
IT: Do you consider these stories historical fiction then?
JW: Yes, many of them are. But in a story collection you can write different kinds of fiction –– it's nice in your first book not to have to define yourself as a certain kind of writer, to show a range in types of stories.
The challenge of historical fiction is not to be overwhelmed by the research and information, but make sure you're focused on the drama. I like to quote Hilary Mantel, who says "the task of historical fiction is to take the past out of the archive and relocate it in a body." History is usually a bird's-eye view, but fiction tries to bring that history to eye level.
IT: You succeed in doing that, in the detailed, intimate, and unique context of each story. In your research, what was already known, what new? What discoveries were you surprised to make?
JW: On one hand, I was writing about places I know pretty well –– Vancouver, Tallahassee, London, Oxford, Shanghai, New York City. But some places, like South Africa or Vienna, I've never been to. Certain aspects I was interested in but not deeply familiar with, like women's hockey in western Canada in 1920s or the Second Sino-Japanese war.?
For "Everything in Between," I learned a lot about South Africa –– the Chinese of Port Elizabeth were segregated, and at the fishing pier there were whites, Chinese in the middle, Blacks on the other end. To me it was a perfect metaphor for the liminal space between Blacks and whites that Asians often occupy in a racialized society. It's interesting to see that dynamic replicated in that part of the world.
IT:?What was the most challenging aspect of developing these stories?
JW: In some ways it was staring up at the mountain again –– not only starting over with short stories, but each one is a discrete project for which you have to find a new idea and then have them all slowly accrete.
Also, all the characters are Chinese, but that doesn't mean necessarily that I understood them or was privy to them or had a right to them. Of the times and places that I wasn't intimately experienced with, I had to make sure that I was doing them justice, making them believable, authentic. The first person I have to convince in any story is myself.
IT: The title story, the novella, "We Two Alone," about an actor pursuing his dream of a career –– what does it mean for you?
JW: Love is at the heart of all these stories, and here we're looking at a 20-year marriage, trying to understand how the couple has gotten to this place. It's also a contemporary story about the challenges of being an artist. And the challenge of being a Chinese person, which changes as you move from one decade to the next. Many of these stories are for me also about mortality. The writer Mohsin Hamid has said, "We break up with people and we break up with places, but we also break up with ourselves." That very much resonates with me, because I feel this is part of a long goodbye with my own existence on this earth. That's why I'm writing these stories, especially this final one is touching on that.
IT: The stories create a feeling of everything in motion, ever shifting, nothing fixed or permanent –– the constant searching of the immigrant experience and the continual re-invention of the self.
JW: People today are moving all over the world very easily, and I like works that reflect that kind of global citizenship –– by writers who aren't bound by borders, who aren't writing about just one particular country. In this age of mobility, the reader's experience should be one of travel as well.
Barbara Adams, a regional arts journalist, teaches writing at Ithaca College.