ITHACA, NY -- Known for her portraits and figure compositions as well as her dense, evocative memory landscapes, Terry Plater is one of Ithaca's most ambitious painters. A traditionalist in an age of novelty and spectacle, Plater's oils and watercolors incorporate 19th century European modes without heavy-handed irony or fashionable gimmicks. She distinguishes herself through a strong sense of art history and the material possibilities of her medium.?
Through this week (concluding Aug. 7) Plater's work is the subject of a two-part exhibition at the Schweinfurth Art Center and the Cayuga Museum of History and Art, next door to each other in Auburn, NY. "Harriet's Legacy" pays homage to Harriet Tubman, who spent her latter years in the small Finger Lakes city. Exploring themes of racial trauma and family history through unabashedly lush painting, this is the best local painter solo show I've seen this year.?
In an "emerging artist" proposal sent to the Schweinfurth, Plater suggested exhibiting her watercolor landscapes there and her family photo based oils next door at the Cayuga Museum. Her watercolors were intended for the "white box" modernist architecture of the Schweinfurth, where they currently fill the modest Gallery Julius. Her oils are particularly well suited for the Cayuga, an 1836 Greek Revival mansion, inhabited by distinguished 19th century physician Sylvester Willard — among other famous men.?
All of the watercolors and most of the oils on show were completed this year.?
Influenced by her reading of William Still's anthology of escaped slave narratives "The Underground Railroad Records," as well as site tours with local historian Carol Kammen, Plater's Schweinfurth display contains perhaps the most striking watercolors by the artist that I have seen.
Like most of her landscapes, these are imagined recreations rather than direct topographic transcriptions. The sense of haunting and foreboding that they convey is characteristic of her work in the genre but takes on a new significance here. Trees, roads and barns serve as metaphors for fraught journeys, while skies and atmosphere often convey sublime terror. Her color — characteristically — is restrained but rich while a painterly language of drips, splotches and smears dispel any expectation of a dry history lesson.?
Particularly striking here are a pair of pieces done with whitened, opaque colors on black paper. (Her watercolor titles, too lengthy to mention here, are quotes from Still's book.) Recalling the practical necessity of night travel for escaping slaves, there is nonetheless something dreamy and enchanting about these ghostscapes.
Next door at the Cayuga Museum, Plater has committed sly subversion by inserting her family history — emphasizing depictions of Black women — into a former home marked by a history of wealthy white men. Working from old family photos and imaginatively reconstructing them, the artist suggests the possibility of an alternative history.?
Recalling their photographic sources as well as painters like Goya and Manet, her colors are again earthy but strong.?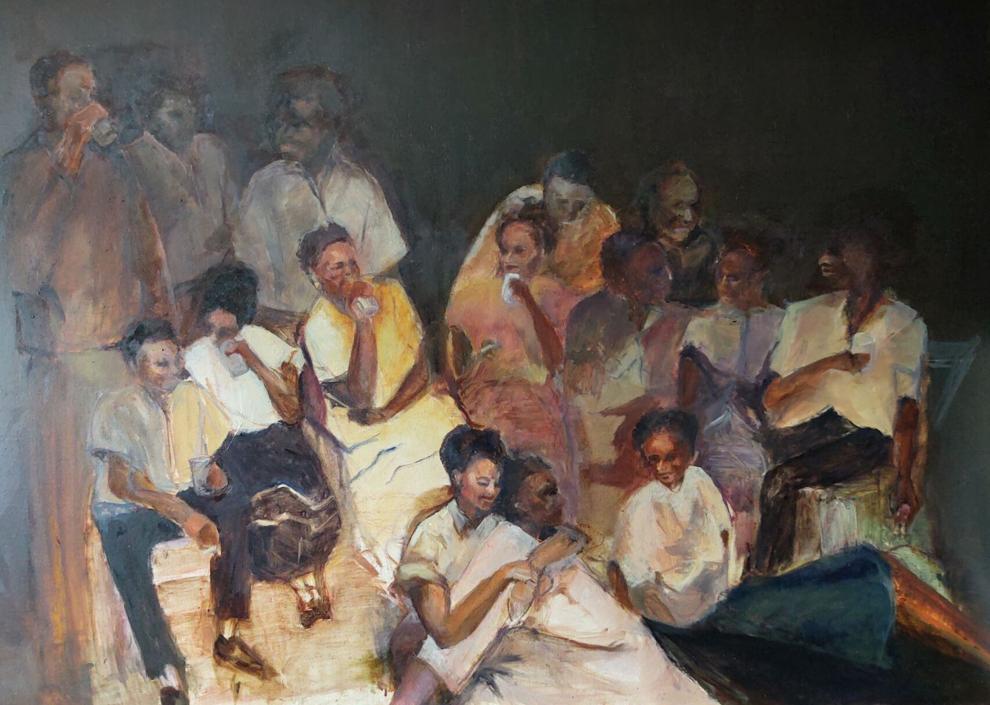 Hung above a fireplace, "Night Picnic" is the most remarkable of several impressive group compositions here. The piece is not huge but it recalls European group portraiture at its most grand. A varied crew of relations, standing and seated, pose amidst an impenetrable black background. As the artist explains in an online video accompanying her show, the nocturne recalls a need for Black folks to be clandestine that long outlived slavery.
Approaching single figures, her portraits take on a generally more realistic approach, particularly to facial detail. The local hero herself makes an appearance in "Harriet (née Araminta Ross)." It's a striking portrayal. Amidst a vague, implied background of thinly painted dull beige, she appears — clad in black with a billowing white skirt — seated on a barely seen chair.?
I wasn't entirely convinced by Tubman's presence here. Doubtless Plater's affinity for the great woman is sincerely felt, and of course the local connection is striking. Still, the suggested link with the artist's own family feels a bit contrived — particularly as the abolitionist appears here as a one-off, the sole famous figure amidst a more private history.
"Harriet" is an unusually ambitious project for a local painter. It called for research and planning as well as empathy and imagination — and of course, painterly bravura. That Plater was able to pull it off is testament to her abilities and her courage.?