Located about two miles north of the village of Trumansburg, on Route 96, sits the Brews and Brats restaurant (no relation to Brew and Brats in Bristol Springs, NY). As you might imagine from its name, this is not an establishment you'd want to visit in search of a fine dining experience. Rather, you'll find a kind of unusual and funky property and a more suitable alternative for diners in search of a casual lunch or dinner.
Outside, through the use of picnic tables, there's a capacity of about 144 diners if they sit a cozy six to a table. As you know, picnic table benches don't offer backs to lean on but there are canopies which offer some protection from the sun. Inside, there's a combination of counter seating and tables, which can accommodate another 50 if they observe social distancing.?
As you might imagine from a restaurant with "brews" in the name, most of the alcoholic beverages are craft beers on tap from New York State. The meat comes from Romulus, the produce from Ulysses, marinades from Binghamton and rolls for the franks and bratwurst are made at Ithaca Bakery. The limited wine selection is entirely from NYS, as are several ciders.
It's noteworthy that there are several different bratwursts entrées – all $8.99 – on the menu and the bratwurst that is served is quite lengthy, 12-14 inches. The skins are made of natural casings, which means they are parts, often intestines, of farm animals. Curious, I phoned one of the owners of their bratwurst supplier, Schrader Farms in Romulus, and learned that the casings at Brews and Brats are, indeed, hog intestines. I find the casings difficult to chew and digest so I make a point of slicing the bratwurst lengthwise and then across, and then picking up the resulting sections and collecting the meat with my teeth. I was told, by the owner, that I'm part of a small minority because most people enjoy the "snap" when they bite into it. If I'm comfortable with my dining companion, I kind of enjoy the informal, rustic atmosphere created by eating with my fingers at a picnic table surrounded by beautiful open farmland.
I experienced some inconsistency in the German potato salad. Once it was simply some red potatoes chopped into sections with no apparent bacon, bacon bits or vinegar. On a subsequent visit, there was plenty of bacon but nowhere near enough vinegar. Traditional German potato salad comes with a warm bacon vinaigrette and this one didn't seem authentic.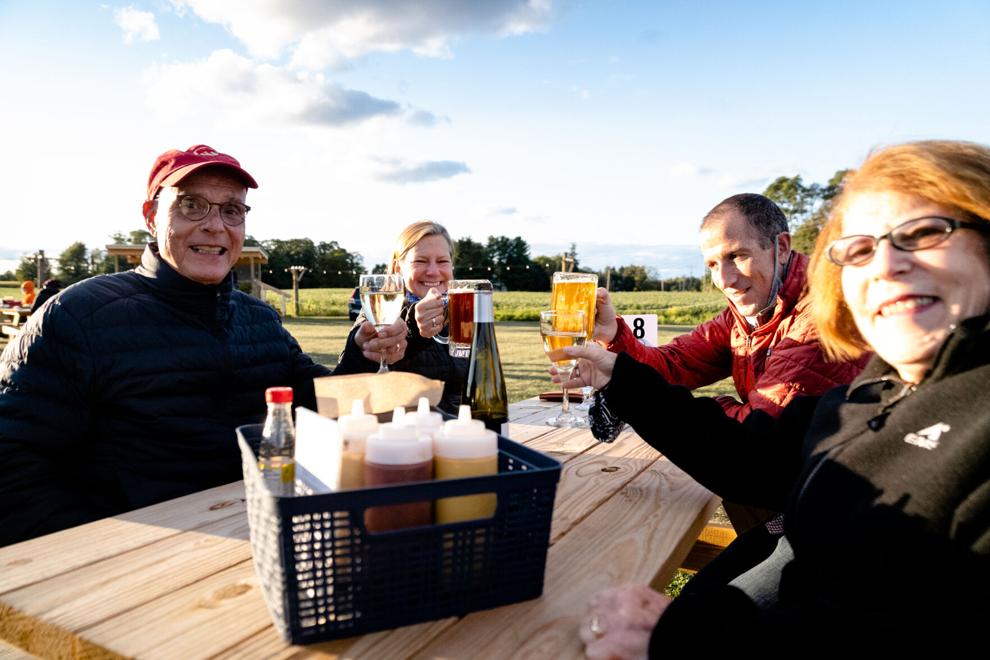 I really liked the OMG baked beans… which included seven different types of beans: pinto, black, northern, butter, grandma's brown baked, Bush's baked, and Campbell's pork and beans, as well as molasses, sweet sausage from a nearby Shur-Save, Vidalia sweet onions, green bell pepper, mustard, ketchup, and brown sugar.
The third major side is sauerkraut, which is made with only three ingredients: broadly sliced green cabbage, salt and distilled water… it doesn't contain any mayonnaise or vinegar and was disappointing.
Those three sides cost $3.89 for an 8 oz cup and $5.99 for 12 ounces. If you don't care for franks or brats, there is a homemade pulled pork sandwich and a chicken spiedie.
The pricing of the wine is interesting, and different. All glasses are $8.50 but the very same bottles from which they're poured range from $14.99 - $19.99. Beers are $6-$7 per glass.
Would I drive the 17 miles from my home in Ithaca to eat at Brews and Brats? I don't believe so. However, if I was already in the neighborhood, with friends, and looking for a pleasant and casual lunch or dinner, I have no doubt that it could be a definite choice.
TID BITS: -The property was formerly a gift shop called Wrap It Up which, after about five years, closed in January 2019. There are still a few items available, including homemade jellies, jams, honey, maple syrup and T Shirts.
-There's a small lounge in the front of the restaurant with a couch and chairs where you can start a brew (but not eat) while waiting for a table.
-Outdoor band concerts are offered on Friday and Saturday evenings. In keeping with one of the themes of the establishment, only local bands are featured.