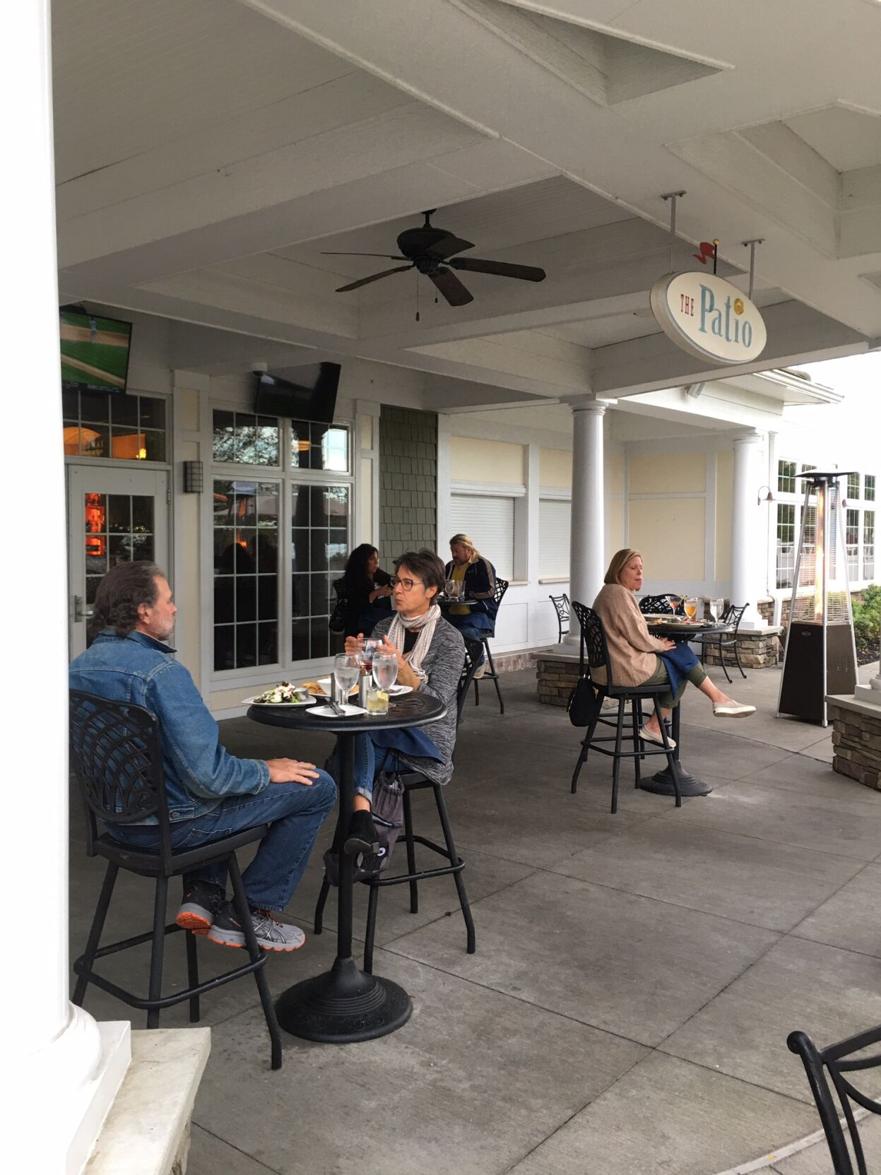 Looking at the Harbor Hotel at the foot of Seneca Lake in Watkins Glen, you can almost imagine the architects straining their brains trying to figure out how to create a large stone structure with as many windows offering a lake view as possible. As a result, the hotel bends around the lake and the spacious outdoor patio bends right along with it. There are a large number of tables and chairs made out of metal grill work that spread out to cover all areas of the patio. Although dining is not directly on the lakeside, you will have a lake view from every table. And even if you sit with your back to the lake, the patio itself features trees, flowering shrubs and large pots with colorful flowers. Alternatively, you can choose to eat inside in the restaurant or by the attractive backlit bar.?
At this writing, no one is certain when it will be too cold to keep the patio open. In any case, I am a big fan of the atmosphere indoors. It's kind of cozy, with backlit cabinets filled with wine bottles, some major stone and woodwork, and large windows overlooking the patio with the lake in the distance. It can seat about three dozen diners.?
The menu offerings are somewhat limited with a half-dozen starters ($6 -$19), three salads ($9-$11), five sandwiches ($13-$19), and five entrées ($27-$38) which are only offered after 5 p.m.
During recent lunches, I enjoyed a Reuben Panini ($13) and Maine Lobster Rolls ($19). Notice the plural "rolls." There really are two buns and, unlike some pretenders in other establishments, these lobster rolls offer a generous portion of lobster and are not crammed with inexpensive celery and mayonnaise.?
The Reuben Panini sparked an interesting conversation because it wasn't a panini. I asked the server, who had only been working there three weeks, about it and when he relayed my comment to the chef, he was told, "We're either going to have to get a panini press or take the word off the menu description." Works for me! The Reuben itself was authentic, with corned beef, Swiss cheese, sauerkraut, and thousand island dressing. It was served on dark Russian rye bread, which I initially mistook for pumpernickel. It is one of the better Reubens on offer in this area.
When we ordered our sandwiches, our server asked if we wanted "chips or fries." While the tasty homemade chips are included with the sandwich, it should be noted that there is a charge of $2 for the fries, which he neglected to mention but which is clearly noted on the menu.?
There is no dessert menu, but the server can tell you the daily selection, which usually comes in at about $8.?
Because the Blue Pointe Grille is a hotel restaurant it serves breakfast, lunch and dinner. Dinner is a continuation of the lunch menu with five additional items available after 5 p.m. One of those is Chicken Milanese ($29). Again, just as I was confused by the word panini describing the Reuben, I was confused by the use of the word Milanese.
A Milanese preparation refers to how northern Italians prepare food. With veal or chicken, the method involves pounding the meatuntil it becomes a thin, flat cutlet, then dipping it in an egg wash and then in flour or breadcrumbs and sautéing it in butter and/or oil. The cooks at Blue Pointe Grille add a cherry pepper and shiitake mushroom cream sauce, which alters the flavor and texture and creates an entrée different from the description of Milanese the menu promises.?
Another dinner entrée is Seafood Scampi ($35) which, although lobster is listed on the menu, had only one lonely piece of lobster along with the shrimp, scallops and fish. It was a bit on the bland side for a scampi, which should include garlic. I asked the server for some garlic and, moments later, he cheerfully returned with some cooked garlic bits, which enhanced the dish immeasurably.
?
One evening, there was a Seafood Fra Diavolo special. It was delicious, with just the right amount of spicy accents in the tomato sauce. They were most likely supplied by the addition of red pepper or red pepper flakes — it was a perfect blend.?
The wine menu is more than adequate, with about a dozen and a half whites and the same amount of reds. There are a few international representatives and a strong representation from New York State. Pricing strength in bottles is $32- $50 and is $8-$10 for wine served in glasses.
Although I had a few issues with menu descriptions, I had no problems with the food, ambience and service, all of which were terrific.?
Blue Pointe Grille is located inside the Watkins Glen Harbor Hotel at 16 N. Franklin St. in Watkins Glen, New York. It's open from 7-10:30 a.m. for breakfast, 11:30 a.m.-2 p.m. for lunch and 5-9 p.m. for dinner.